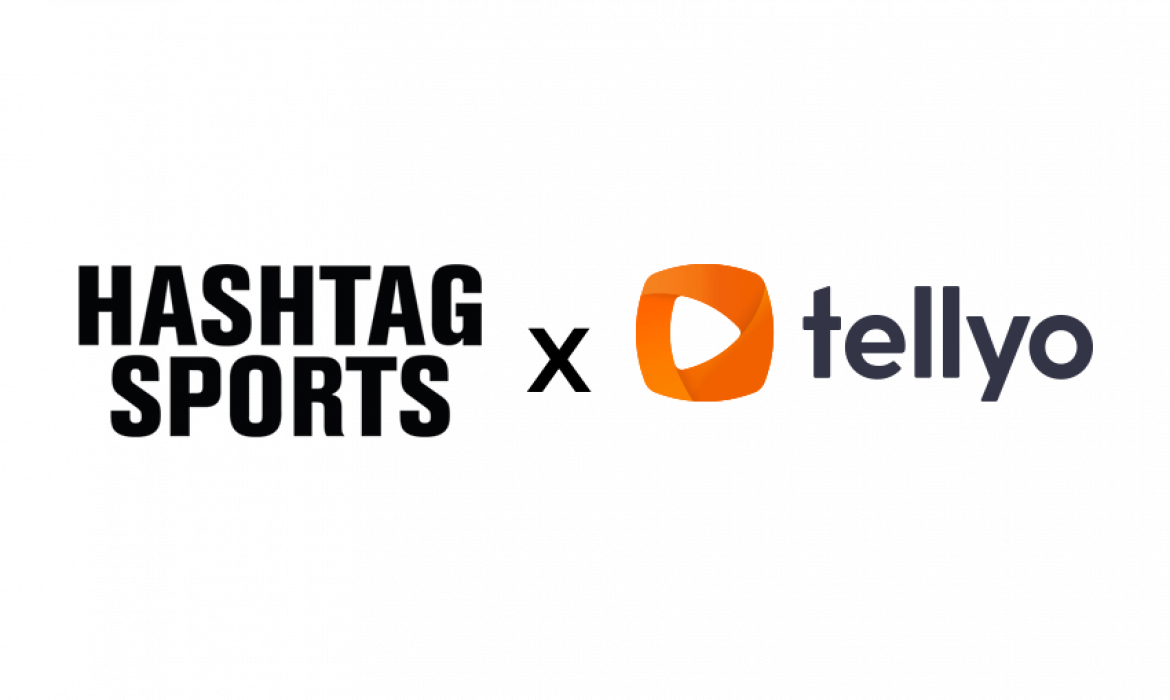 Partnership will leverage Tellyo's flagship cloud production platform to facilitate online coverage of the events, including live streaming, highlights packages, and clips.
London, UK, 18th April 2023 – Five years after an early-stage partnership for both organizations, Tellyo and Hashtag Sports are teaming up once again on live production at Hashtag Sports 2023.
Hashtag Sports will use Tellyo Pro to clip and publish real-time highlights of conference speakers and award winners, and stream select conference sessions and athlete/executive interviews using the latest generation of Stream Studio – Tellyo's flagship solution for live multi-camera production.

"We are tremendously impressed by the product evolution and enhancements made by Tellyo, and we are thrilled to be partners again as both of our organizations continue to ascend," said Hashtag Sports CEO Anthony Caponiti. "Together with Tellyo, we're excited to deliver Hashtag Sports content to a larger audience than ever before, and we appreciate the support of their team in bringing our vision to life."
The 2-day event will feature two stages and over 100 speakers representing the brightest minds and most critical voices from across the sports entertainment media and marketing ecosystem along with the 5th Hashtag Sports Awards which will recognize winners in 50+ categories for their engagement effectiveness. Previous Hashtag Sports event clips and soundbites have driven hundreds of millions of video views across both web and television.
"We are big fans of Hashtag Sports and what Anthony and his team have achieved, so we are looking forward to restarting our association and helping them achieve their vision," said Richard Collins, CEO of Tellyo. "Cloud production solutions have evolved beyond recognition over the last few years and we're now offering the most powerful, feature-rich, and scalable platform in the industry. We can't wait to thrill audiences everywhere with the best of Hashtag!" The event will be hosted in New York City on June 13-14 at Warner Bros Discovery's headquarters in Hudson Yards. For more information, visit https://hashtagsports.com/conference.
About Tellyo
Tellyo is your complete cloud production platform.

Tellyo empowers media and content teams to produce compelling live video that can be streamed to multiple digital and social media destinations using Stream Studio, Tellyo's cloud-native production solution that includes an 8ME vision mixer/production switcher. With Tellyo Pro, branded video clips, highlights and compilations can be created and published to channels simultaneously and instantly, from anywhere, all with one click. Tellyo Guest helps you deliver high-quality web conferences, events and presentations in real-time that bring external contributors and commentators into productions from multiple devices. Tellyo Talent lets athletes, actors, sponsors, ambassadors and influencers amplify your reach and engagement across social media. Faster, greener and more efficient, Tellyo is #smarterproduction!
For more information, visit www.tellyo.com
Media contact:
Stuart G. Russell
Head of Marketing and Communications
E: stuart.russell@tellyo.com
T: +44 (0)7827 019494
Follow us on LinkedIn and Facebook
About Hashtag Sports
Hashtag Sports is the premier recognition and continuing education platform for content creators, marketers, and creative talent across the converging sports, media, and entertainment industries and the only event connecting the entire sports entertainment ecosystem.