LIVE EDITING, CLIPPING AND RESTREAMING

Clip and edit from live streams and instantly publishing to all social and digital channels simultaneously.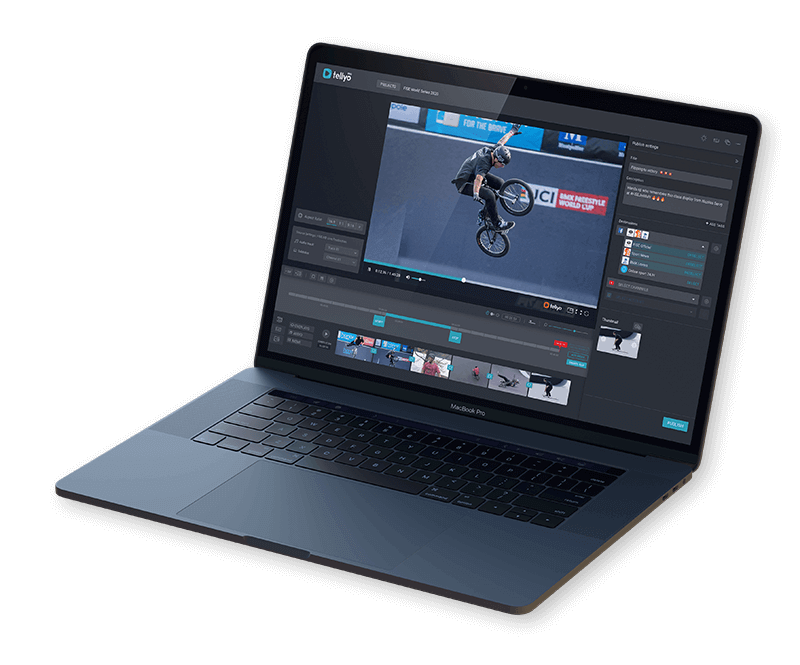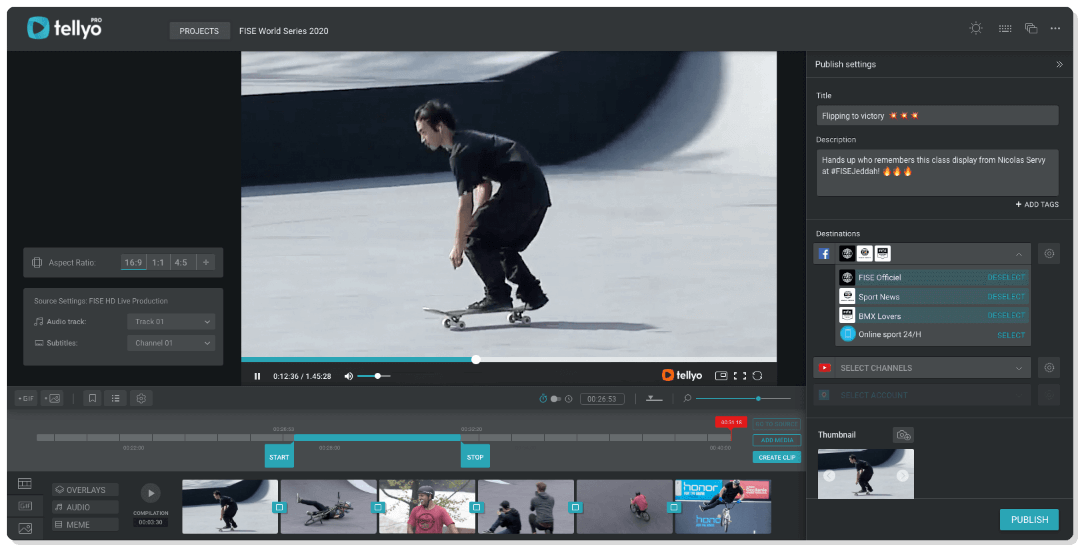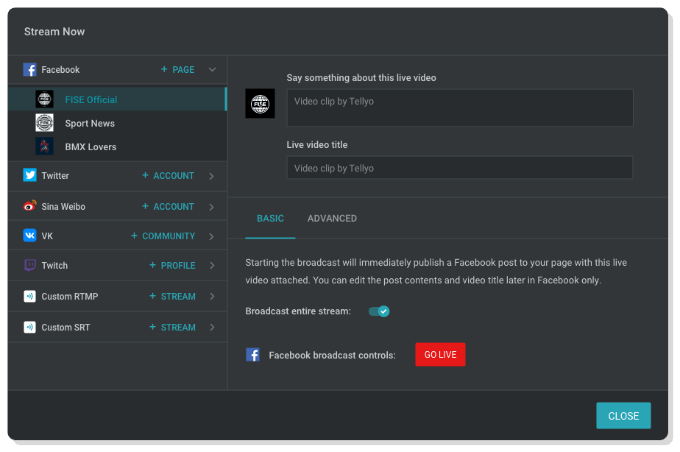 CLOUD-BASED CONTENT PRODUCTION
Tellyo Pro is a cloud-based frame accurate and real time, video clipping, editing, publishing & restreaming platform for digital and social media teams. Ingest streams and output clips at 20mbps, 1080p, & 60fps.
Tellyo Pro offers an easy-to-use intuitive interface, that provides rapid workflows for creating live highlight (single clip or montages) in seconds and sharing those across all social and digital channels with automatic monetisation and brands rules.
The platform can manage multiple ingest signals simultaneously and provide access to them for teams of any size to create and publish highlights. Tellyo supports both adhoc recordings from connected signals as well as ingests of 24/7 channels.
The Tellyo editor is an easy-to-use frame accurate toolset, featuring scrubbing, jump to timecode and the ability to switch between relative and absolute video timelines.
All user clipping, editing, and publishing tools are available from a single window, providing a clean and efficient workflow.
Tellyo shares industry standard Keyboard shortcuts to ensure that the UI remains familiar.
Tellyo Pro offers multiple branding tools including overlays, watermarks, transitions, wipes, and bumpers – all available with a simple click.
Tellyo supports ingests – editing and publishing of 608, 708 and WebVVT subtitles.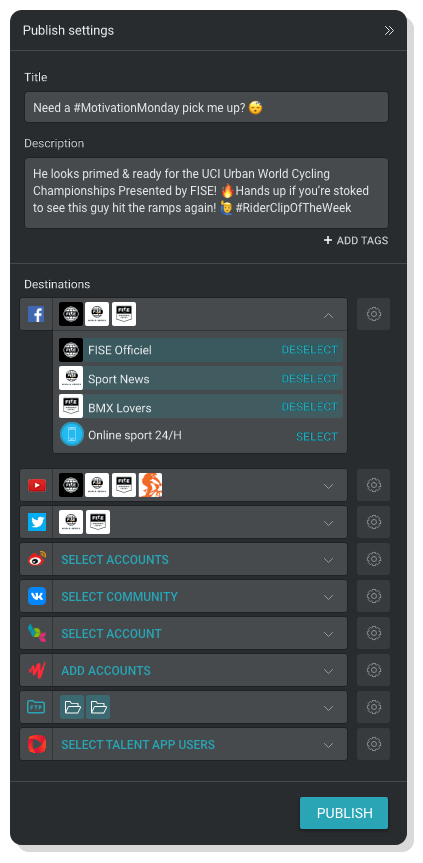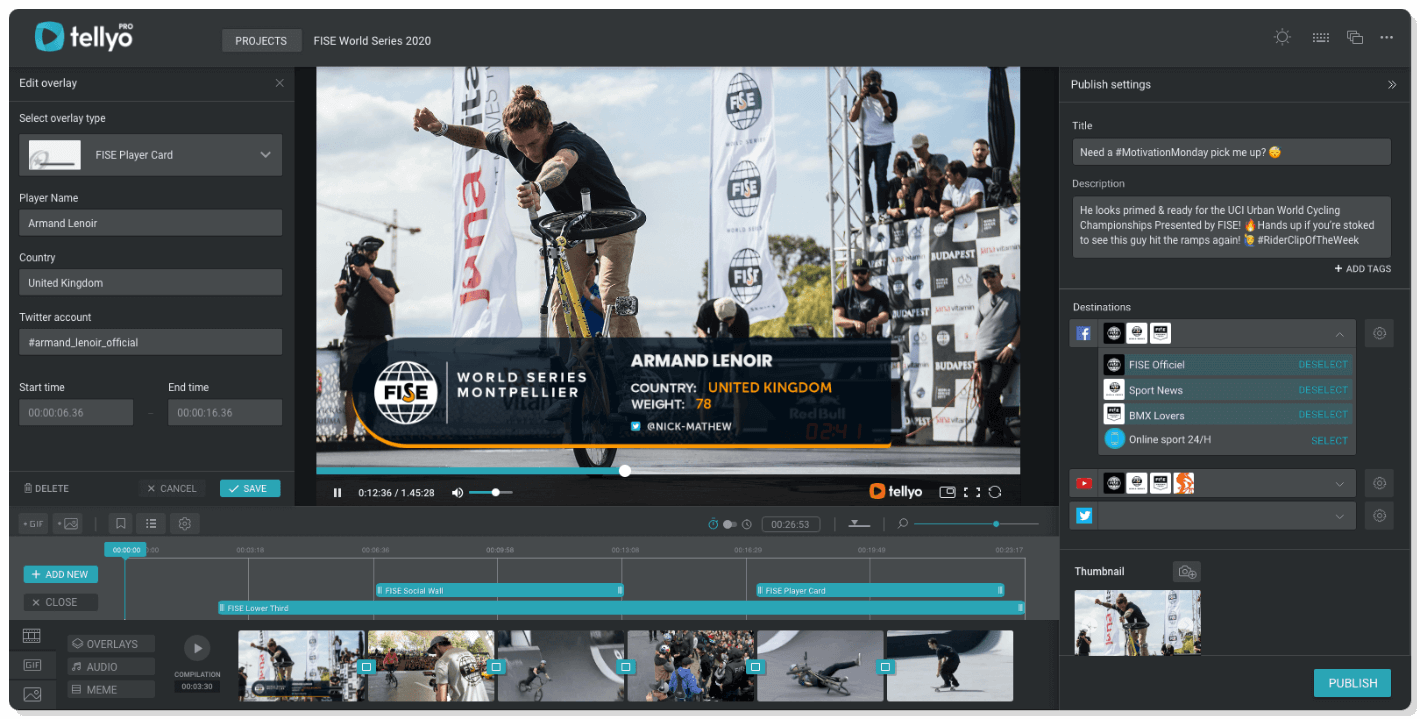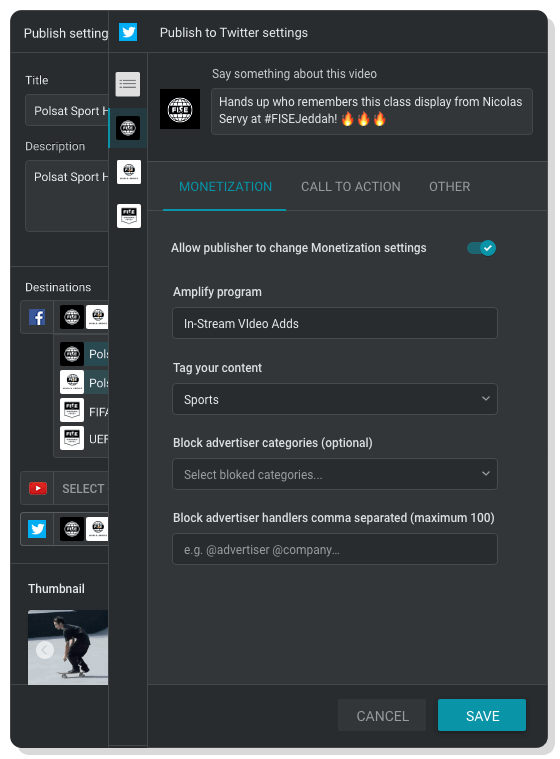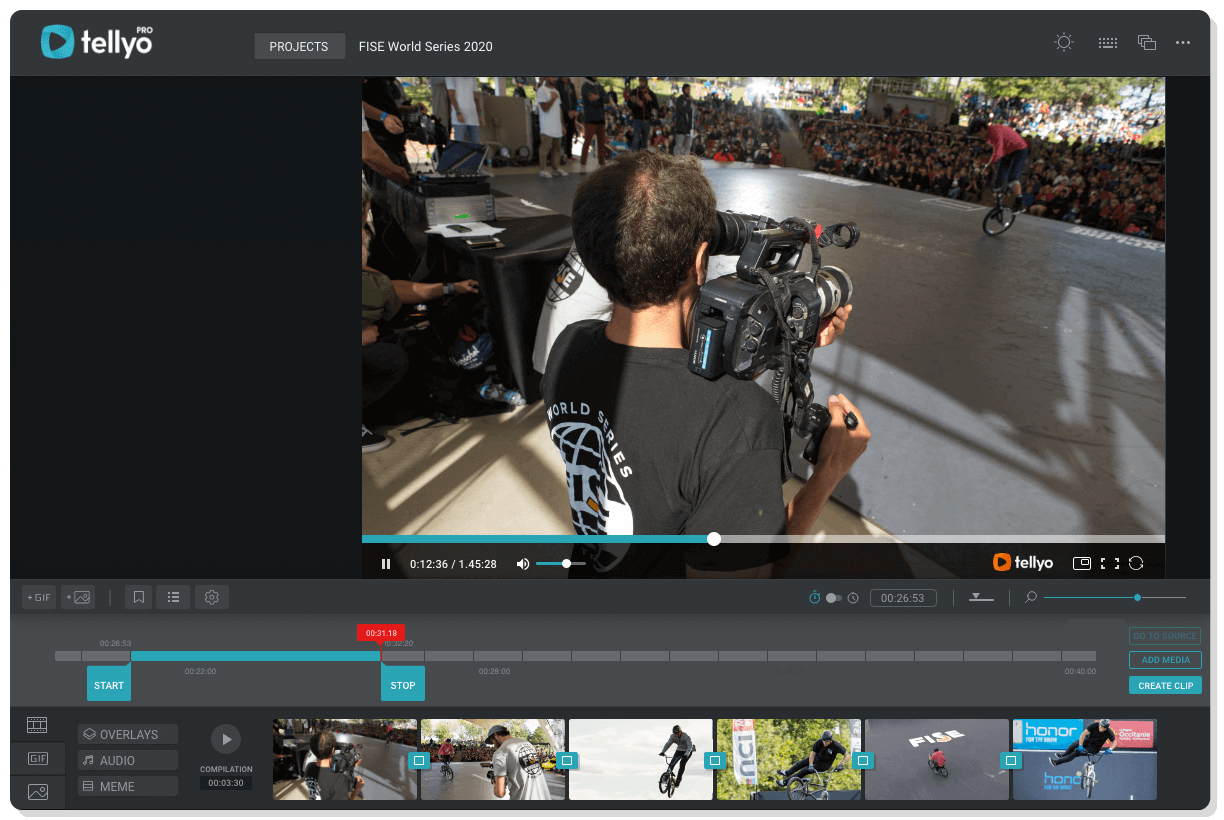 Produce multi aspect ratio clips simultaneously.
Produce content in multiple resolutions.
Publish short form content to multiple accounts, social channels and pages simultaneously.
Create and deploy stills and gifs from video.
Activate monetization with social channels.
Publish to FTP and secure password protection folders, plus share access to content securely by permitted third parties.
Create highlights from multiple live streams, VOD/Gallery clips and other media assets.
Securely share content with onscreen and on-field talent, as well as performance reports from shared clips.
Tellyo has partnered with Adobe and provides full two-way integration with Adobe Premiere Pro, the world's most popular NLE solution.
Combine live remote access to Tellyo content with the power and creativity of Adobe. Introduce highly advanced NLE edits, colouring and audio options in Premiere Pro to Tellyo created assets.
Unify digital and social teams by streamlining workflows. Enjoy greater team collaboration across Adobe and Tellyo Pro, live and in real-time. Drag and drop content created by the digital teams in Tellyo and Adobe content created by the Broadcast teams back and forth on a shared workflow.
Exchange clips, highlight reels and longer video assets back and forth from Tellyo into Adobe and vice versa. Activate Adobe graphics and audio editing on Tellyo content.
Collaborate on the same content at the same time – bring live or past streams directly from Tellyo into Adobe. Seamlessly clip and edit Tellyo content from within Adobe and publish content from Adobe using Tellyo's publishing engine.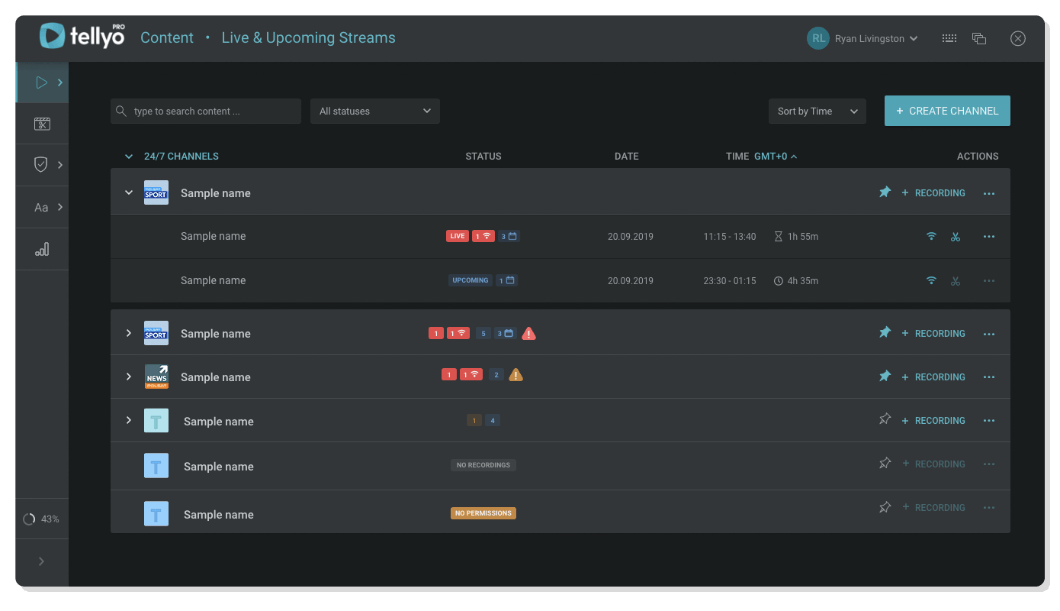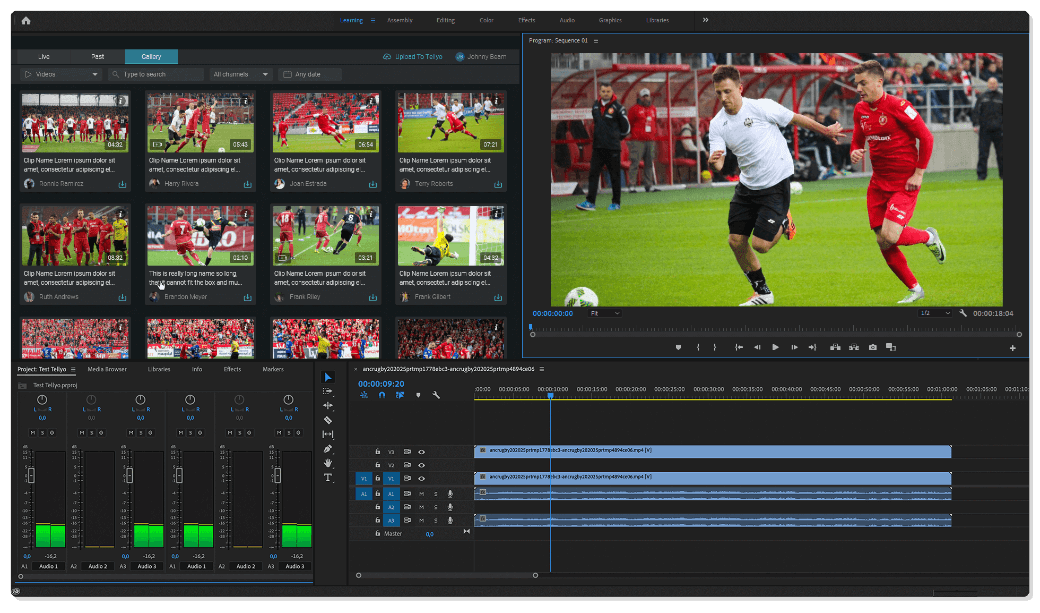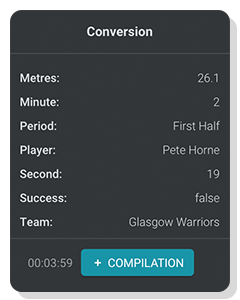 Tellyo also offer a "Smart Editor", which is an enhancement for content that is supported with real time metadata.
The smart editor uses metadata to mark on the video timeline key moment in the video for future editing, tags, or archiving. Editors can also rough cut those moment with a single mouse click to a montage.
Alternatively, rulesets can be written to automatically cut and publish specific moments using the metadata and publish it for review or straight to social.
The metadata moments can also be shown as a chronological timeline of the event and editing sections/filters used to create highlights.
Clip key moments with frame accuracy from your events in real-time.
Edit and enhance your videos with branded overlays, bumpers, wipes and effects like slow motion.
Use the montage function to rapidly produce highlight reels from your events.
Create clips in different formats and aspect ratios (square or portrait) for specific applications and social channels.
Mix and join content from multiple sources: live streams, past streams, clips already created and videos uploaded to our platform.

Video on Demand is a

prime channel of monetisation for video rights holders. The holy grail

of short form video engagement is

high value assets delivered at speed.

Tellyo

Pro

brings that strategy to life.

Publish your video edits to multiple social and digital channels simultaneously.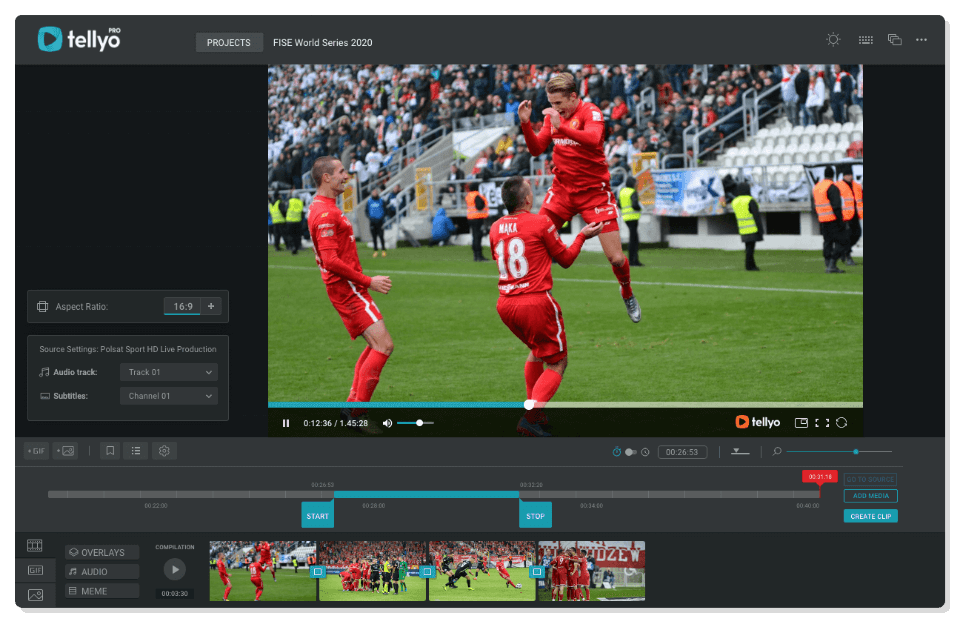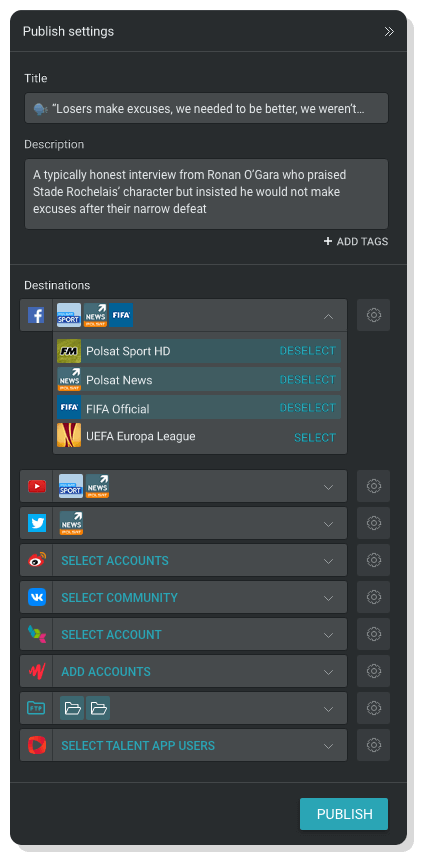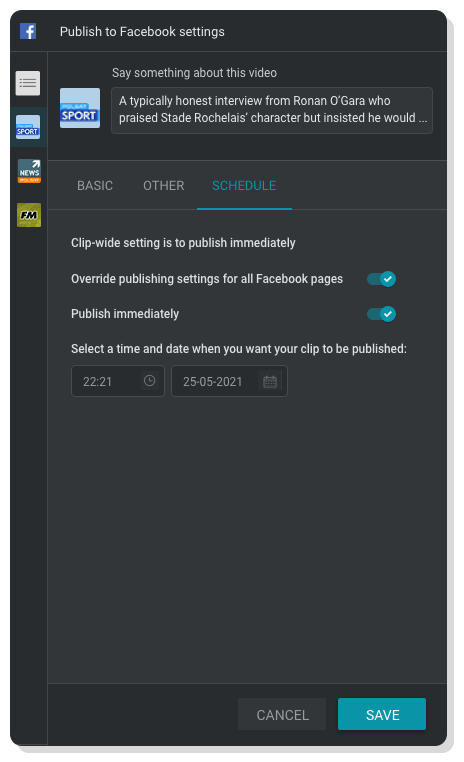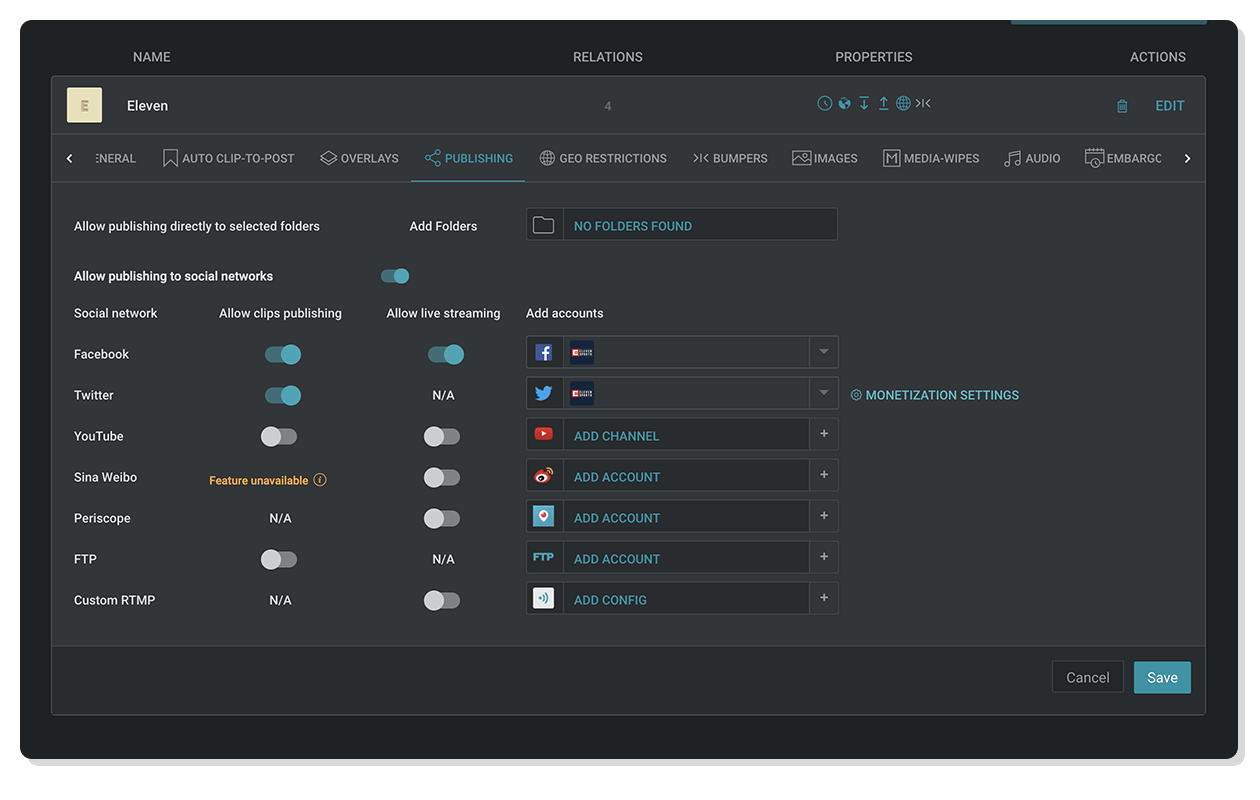 USER AND CONTENT RIGHTS MANAGEMENT
There is no limit to how many users can access your content in Tellyo but all fall under a granular and controlled permission and rights structure that is yours to control.
User groups and assigned rules enable you to keep all the control of your content and its lifecycle as an editable asset.
Allow your content to be shared by permitted partners and increase reach and engagement even further. With Tellyo's control platform, you can feel assured that all your brand and rights management conditions are being met.
Tellyo also gives you multiple, precise rulesets you can implement to control how your content is created, distributed, and viewed. These rules include:

Controlled access to social media profiles
Ability to restrict publishing times and embargos
Limit to publishing channels and editing capabilities
Geographical restrictions
Group or single user-based permissions
Mandatory pre- and post-roll branding
VIDEO
Resolution: 720p/1080p (Aspect ratio 16:9)
Bitrate: standard up to 10Mbps, custom setup up to 20Mbps
Frame rate: 23.98/24/25/29.97/30/50/59.94/60 FPS
Scan type: progressive (preferred) and interlaced
Video codec: MPEG-2, H.264, H.265, VP8, VP9 (high profile preferred)
GOP size (keyframe interval): 2 seconds
AUDIO
Audio codec: MP2, MP3, AAC, Opus 
Audio sampling: 48 kHz (preferred), 44.1 kHz 
Audio bitrate: at least 128kbps for speech, 256kbps for music, up to 512kbps 
SUBTITLES
VTT (HLS)
In band Closed Captions CEA-608/708 (RTMP, SRT) 
STREAMING PROTOCOLS
RTMP(S): pull and push
SRT: pull and push (streamid support required for push mode, SRT version 1.3.3 and above, push mode H.264 only)
RTSP: pull
HLS: pull (for minimizing latency single GOP segments are preferred) 
TELLYO PRO IS A GREAT SOLUTION FOR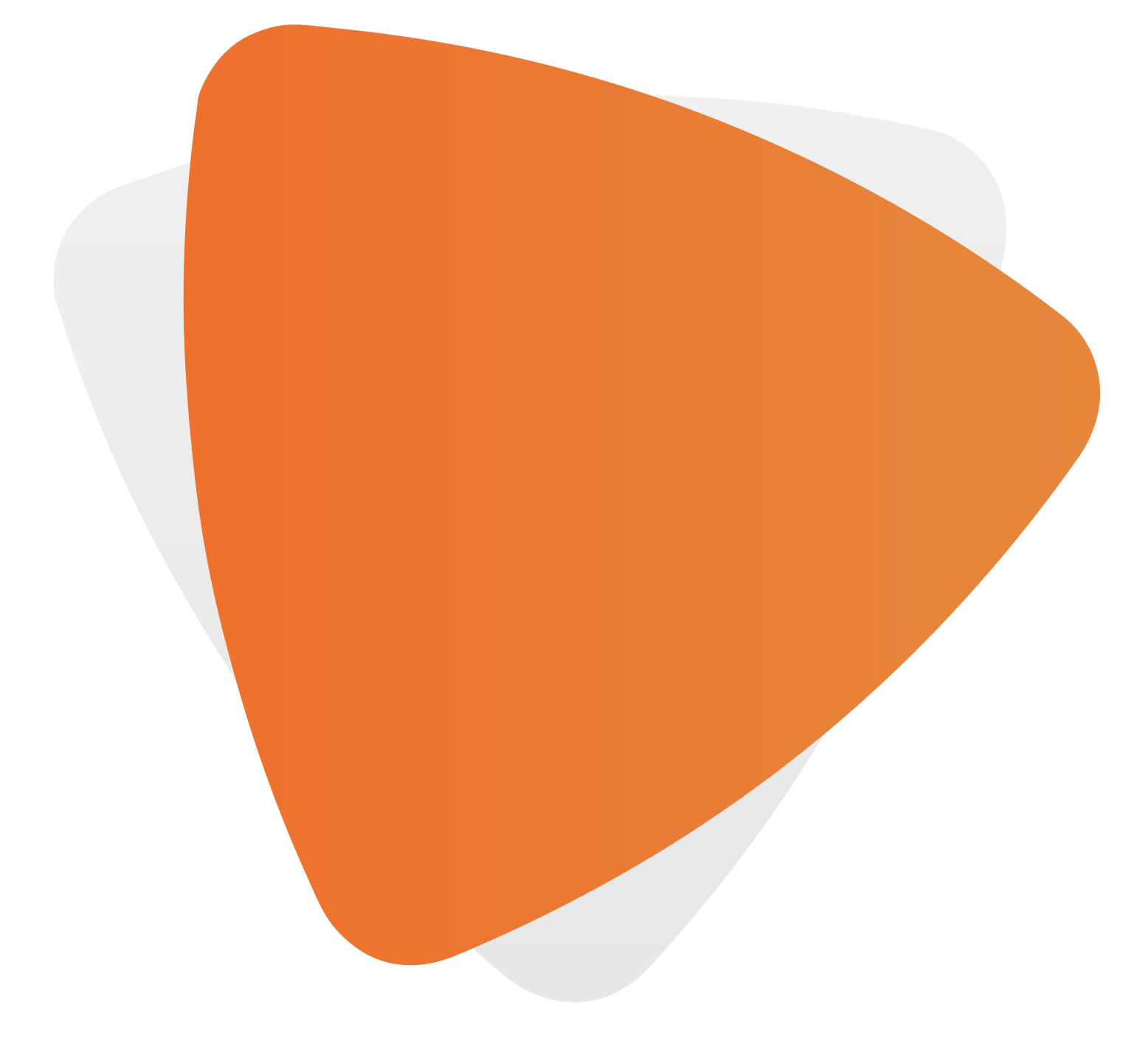 Share the moment by allowing just-seen TV moments to be shared by viewers across all social media platforms.
Create a unique experience by streaming content directly to fans, allowing various sources, assets and live feeds to be brought together.
Deliver a robust content strategy driven by the creation and distribution of video clips to drive fans to live streams.