As the governing body for 226 associations, overseeing a vast calendar of global events, the International Table Tennis Federation (ITTF) is one of the largest sports federations in the world. Its digital coverage continues to develop, helping the organisation to reach more fans and grow the sport's popularity.
We're extremely proud to support the ITTF's direct-to-fan video strategy season to season, enabling the federation to stream from more tournaments and matches, and share video clips as exciting moments happen on individual tables.

WHAT'S CENTRAL TO THE ITTF'S DIRECT-TO-FAN VIDEO STRATEGY?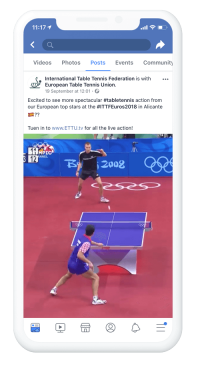 INCREASED GLOBAL STREAMING COLLABORATIONS
Our Tellyo platform supports all of the ITTF's major tours and championships, as well as increased coverage from regional events in more remote locations within Fiji, Nigeria and India. The ITTF rely on us to seamlessly ingest live content, enable live clipping and deliver streamed content to engage global fans via social channels – and to feed ITtv, the organisation's OTT platform.
"I cannot imagine life without Tellyo. The platform is at the core of our social video strategy, helping us to showcase dynamic sports content from multiple ITTF tournaments online. All-in-all, thanks to Tellyo, we're better able to entertain and excite our fans, dramatically improving our digital reach, video views and fan engagement levels across social media."

Matthew Pound
ITTF Marketing Director
RESULTS FOR VIDEO SHARED VIA ITTF SOCIAL CHANNELS DURING 2018/19:
The key to our joint success is two-fold. Firstly, the ITTF's calendar of events and our platform's infrastructure go hand-in-hand, meaning we're always ready receive signals from any event in the world, however remote, thanks to localised deployments and signal delivery capabilities including IP and satellite. Secondly, we provide an extensive set of advanced tools to ITTF production teams, meeting their requirements on live highlights production, content access sharing, rights management, content distribution and live stream delivery.