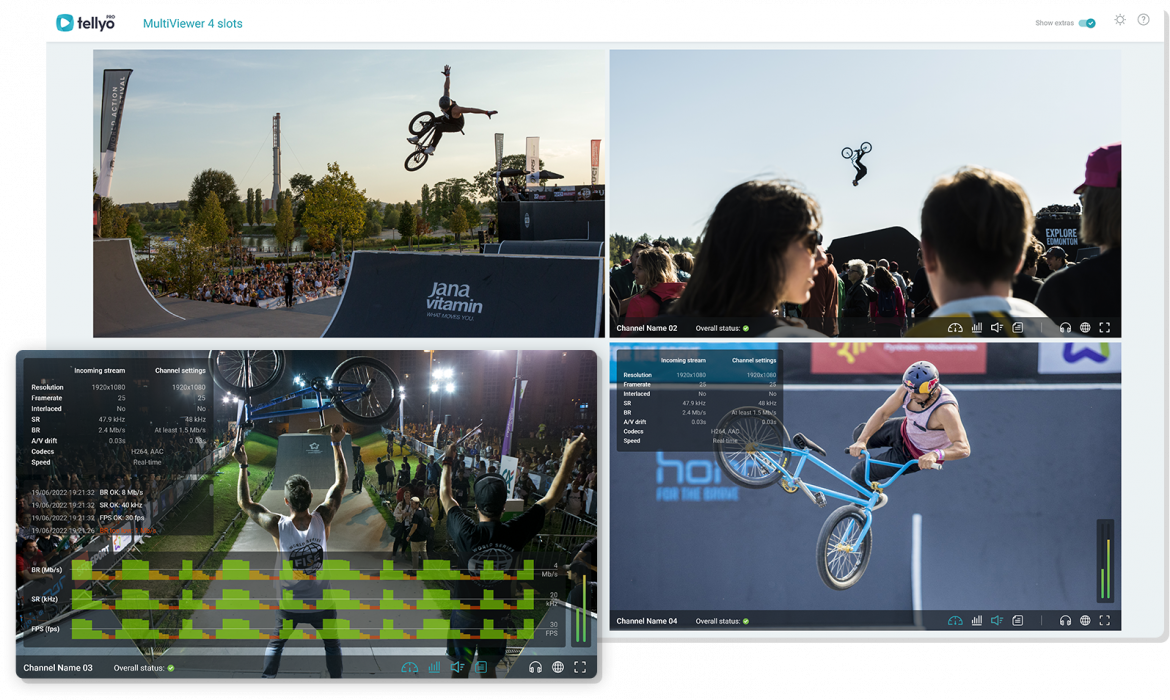 London, UK, 14th September 2022 – Our latest release of Tellyo Pro (version 2.34.0 – code name 'SharpDev') arrived just in time for the IBC show in Amsterdam last weekend, and it sees the introduction of two important new features – a new and improved MultiViewer and manual tagging of recordings.
Enjoy The View
Tellyo Pro's MultiViewers are an indispensable part of the platform, and we currently give customers the ability to monitor up to 20 channels concurrently. However, we are always looking to improve this element and make it even more powerful and valuable. In this release, we are opening up the ability to add a selection of graphs and overlays to the MultiViewer, so that producers can easily monitor a number of key production metrics such as stream frame rate, video bitrate and audio sample rate. Users can choose to see these metrics as graphs, giving them a very visual and immediate view of the health of their stream(s).

More info: https://app.tellyo.com/guide/multiviewer/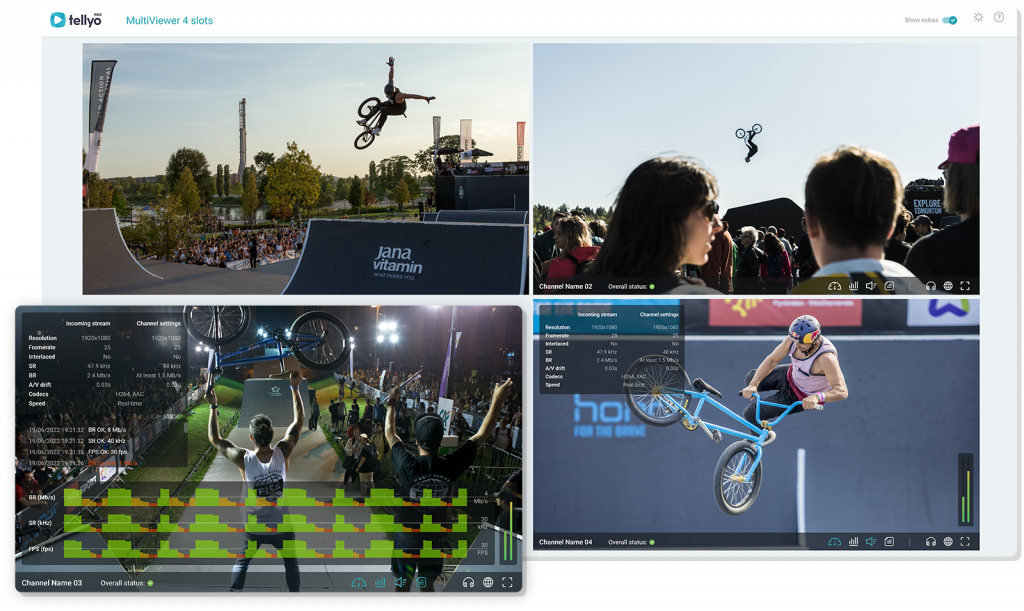 Tag Me!
Our latest release gives operators and producers the ability to manually add optional metadata (as a distinct data source) to recordings. Operators can select a recording, open up a manual tagging form and then add in a title, description, keywords and a numerical value to their clip. This will be useful for producers who wish to categorise clips according to specific criteria or attributes (e.g. a corner in football or return of serve in tennis), or annotate clips with specific information.

More info: https://app.tellyo.com/guide/manual-tagger/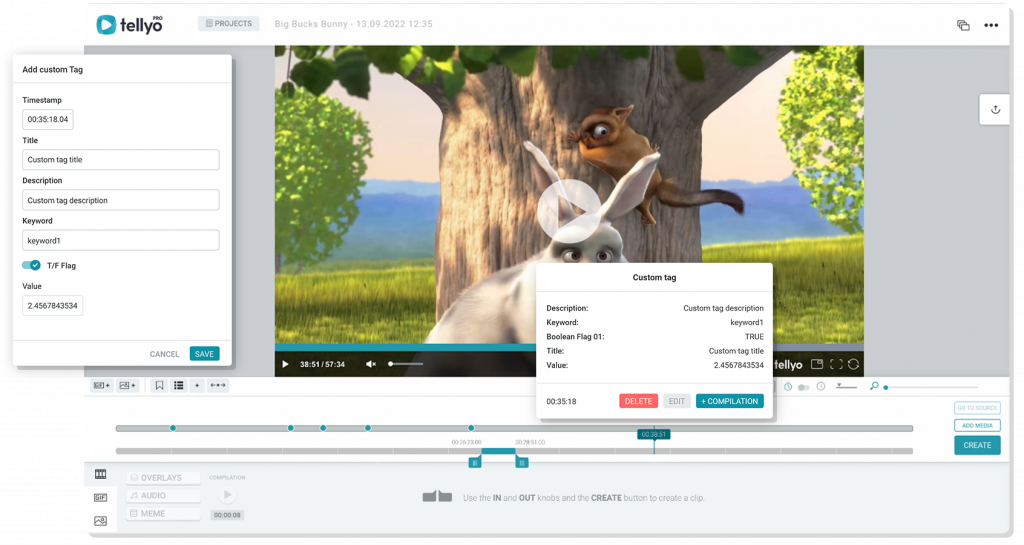 For any more information, please don't hesitate to contact us at feedback@tellyo.com, and we look forward to hearing your thoughts on this new release. We always value and appreciate your feedback!
About Tellyo
Tellyo is your complete cloud production platform.
Tellyo empowers media and content teams to produce compelling live video that can be streamed to multiple digital and social media destinations using Stream Studio, Tellyo's cloud-native production solution that includes an 8ME vision mixer/production switcher. With Tellyo Pro, branded video clips, highlights and compilations can be created and published to channels simultaneously and instantly, from anywhere, all with one click. Tellyo Guest helps you deliver high-quality web conferences, events and presentations in real-time that bring external contributors and commentators into productions from multiple devices. Tellyo Talent lets athletes, actors, sponsors, ambassadors and influencers amplify your reach and engagement across social media. Faster, greener and more efficient, Tellyo is #smarterproduction!
For more information, visit www.tellyo.com
Media contact:
Stuart G. Russell
Head of Marketing and Communications
E: stuart.russell@tellyo.com
T: +44 (0)7827 019494
Follow us on LinkedIn and Facebook