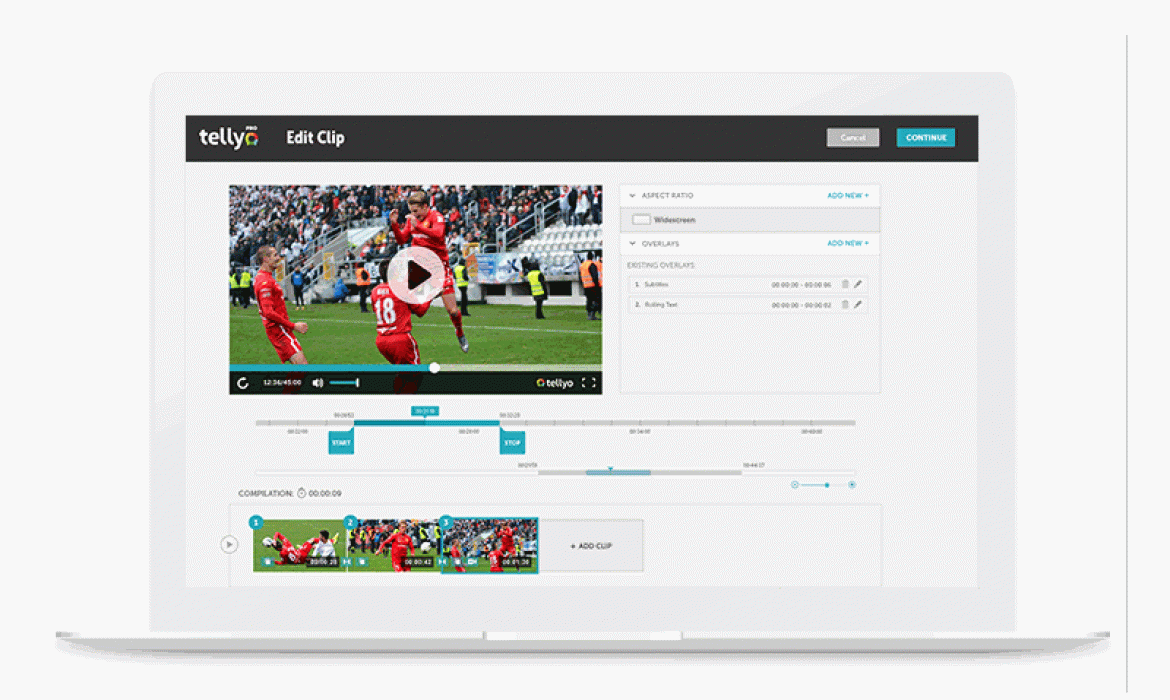 Here at Tellyo, we take the time to listen to what users have to say and genuinely care about your needs. The new look Tellyo, which we will be gradually rolling out to our users, is the ultimate proof – a refreshed, user-friendly interface, packed with new features and enhancements.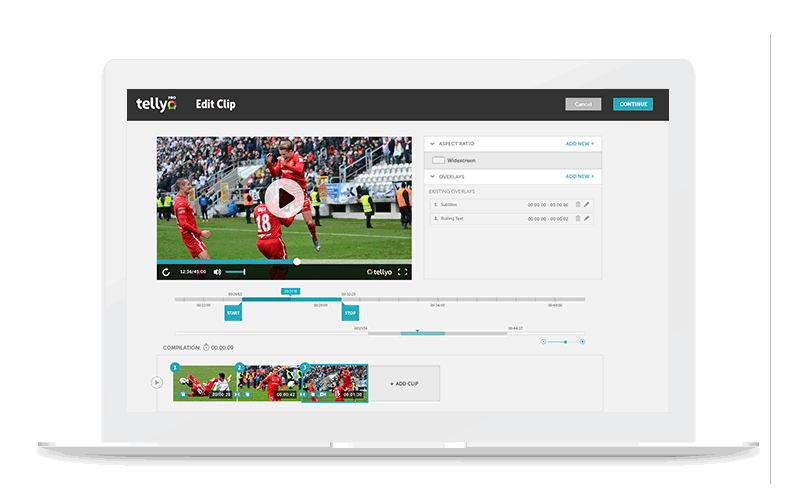 Let's take a closer look at what we've improved for you:
Reach your audiences even sooner
Online audiences value getting information instantly. That's why we've improved the workflow for producing clips and sharing them to social media.
From now on, editing and sharing will happen on the same screen, making the process faster and more fluent.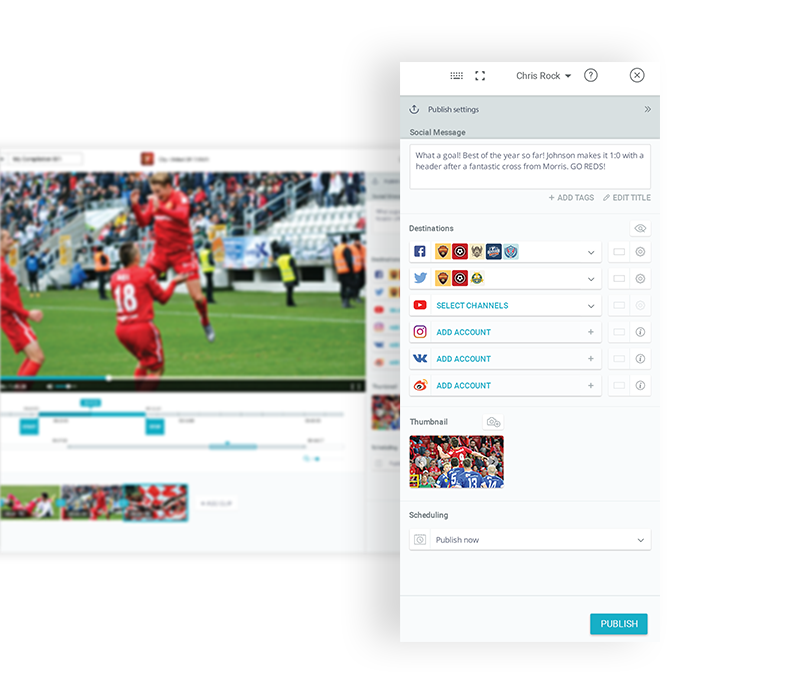 Sharing a single clip of a key moment takes seconds. While producing an engaging video with branded overlays, bumpers and wipes, then simultaneously publishing it to multiple social media profiles takes less than one minute.
With such a fast workflow at your fingertips, you can reach your audience as soon as possible and maximise engagement.
Boost productivity with the new Projects feature
By listening to our customers we gained useful insights. We found that switching between tasks when working with live content, is something that users do a lot. When switching, users wanted certainty that their work would be saved.
To meet their needs, we've created the Projects feature. Each task now started in Tellyo will be automatically saved as a separate Project. This means that users can jump into other tasks and get back to saved work whenever they want. The clip, compilation or highlights will simply be waiting for them, just as they left it.
Projects can also accelerate the process of creating different types of highlights and can improve collaboration among users with access to the same content in Tellyo. You will be able to automate some of your frequent activities helping you to keep your content more consistent and faster to produce.
Publish smarter on social media
Effective distribution of content to social media can be difficult at times, especially when collaborating with external partners, like freelancers or agencies. This is something we've addressed and simplified with the new look Tellyo.
Via Tellyo, you can now safely give limited access to your social media profiles to chosen users – such as trusted, independent freelancers.
You can allow them to publish and stream content on your social media channels through Tellyo, but without giving them actual, wider access to your social media accounts.
This way, we keep your social accounts safe but operational for users you choose.
Design suited to your needs
We were surprised to see that our customers use Tellyo on such a wide range of screen sizes and that they often work in resized browsers. To make it easier and efficient, we've redesigned our platform and made it more responsive.
You can now work more effectively in Tellyo when on smaller laptop screens or in resized browsers.
Learn how to use Tellyo with our new Guide
Every Tellyo customer will now gain access to our knowledge base – the Tellyo Guide. This puts how-to guidance at our customers' fingertips and will help to answer the most common questions related to Tellyo features.
You can search through the Guide's topics or categories – it's up to you. If you're unable to find a satisfactory answer, simply let us know. We're always keen to get to know your point of view and help you.
If you're already a Tellyo user – simply click here to login to the Guide. If you wish to become a customer, please contact us.
When will the upgrades be available for users?
We are rolling out the upgrades gradually and will contact each of our partners individually to make this process as comfortable as possible.
Not the final word!
We're proud of Tellyo's brand-new UI. But we're not going to stop here. All improvements are the result of continuous dialogue with our users.
The new design also allows us to efficiently develop the platform further, so stay tuned.
If you have any suggestions about new features that could be added to Tellyo, we would be more than happy for you to reach out to us via contact@tellyo.com.
Related Posts