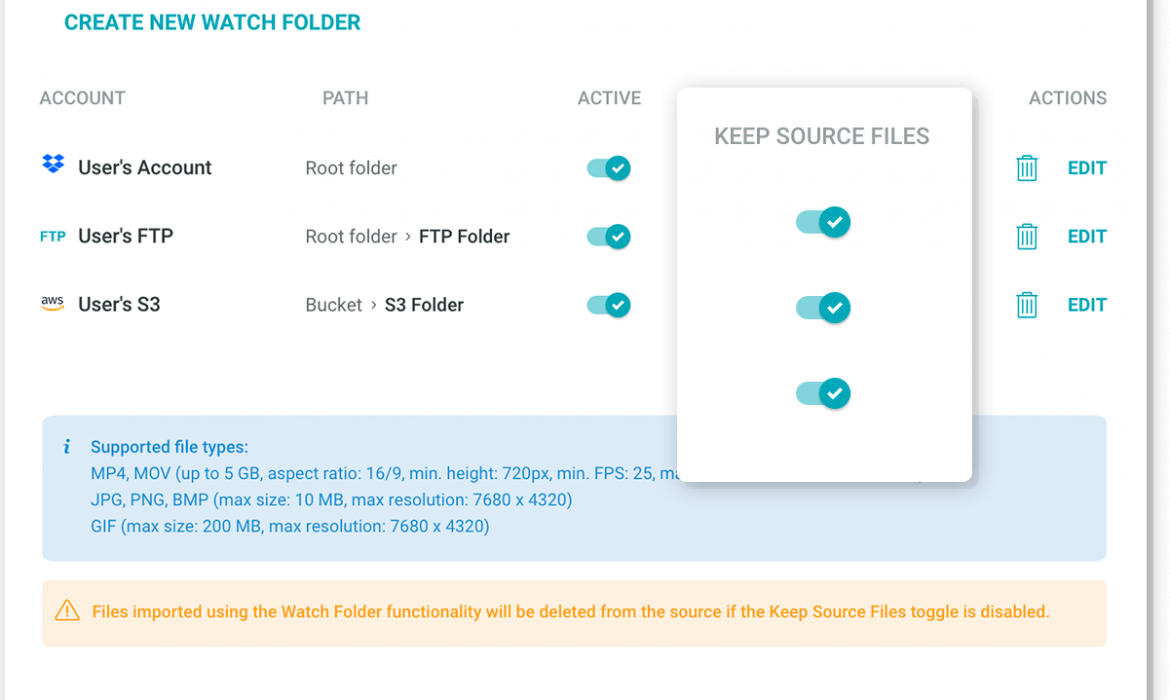 London, UK, 15th June 2022 – Tellyo, the complete cloud production platform, is very pleased to announce the latest updates to the ever-popular Tellyo Pro video editing, clipping and distribution solution. Version 2.32.0 – code name 'Pollena Eva' – sees the addition of a transcoded stream preview to our popular Stream Monitor feature, as well as the doubling of the number of rendering slots within the platform for even greater flexibility. We're also improving and simplifying the user interface for Destination Management, giving users the option to keep or discard content that is held in watch folders, adding subtitles (when available) to the video preview in folders and also adding a 'hover to preview' feature for video thumbnails in lists in the folders section.
Sneak Preview
Tellyo Pro's Stream Monitor feature has received lots of positive feedback since its introduction, and we're now pleased to build on this important workflow tool by adding transcoded stream previews. The transcoded video takes less bandwidth and also addresses browser limitations, enabling your web browser to show all of the streams that Tellyo Pro's video backend supports.
More info: https://app.tellyo.com/guide/monitoring-a-stream/

Double Up
In response to feedback from our user community, we're very pleased to double up the number of rendering slots within Tellyo Pro from two to four (per instance). This will enable more clips to be rendered at any one time and will enable multiple users to produce content more quickly, speeding up workflows and efficiency.
Destination Anywhere
Another significant change is the rebranding of our Account Management menu option to 'Destination Management'; we've also simplified the interface, making all of the destinations visible when entering the view and making the most common control options more readily available to you.
More info: https://app.tellyo.com/guide/manage-destinations/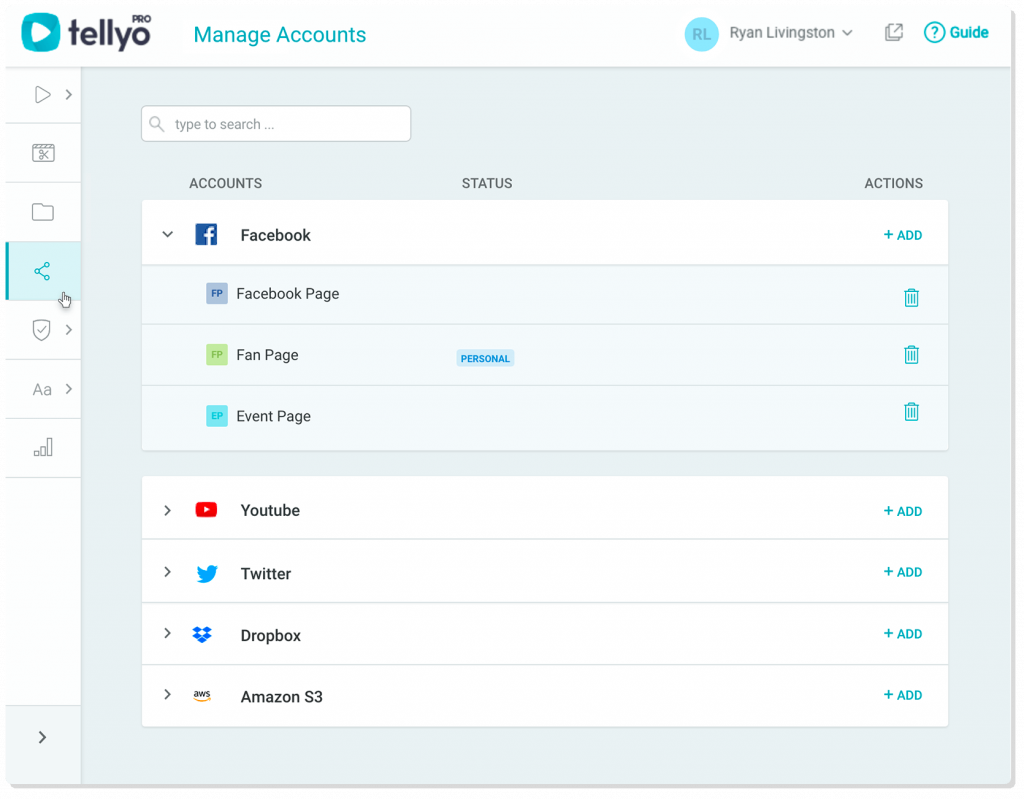 Watch Me
We know that users value the ability to bring content into Tellyo Pro from other locations automatically via our watch folders feature. However, we are aware there has been some confusion over what happens to these files once transferred to Tellyo Pro. To remove any ambiguity, we're introducing flags so you can choose whether copies of the original files remain in their source location after transfer to Tellyo Pro, or are discarded. More info: https://app.tellyo.com/guide/watch-folders/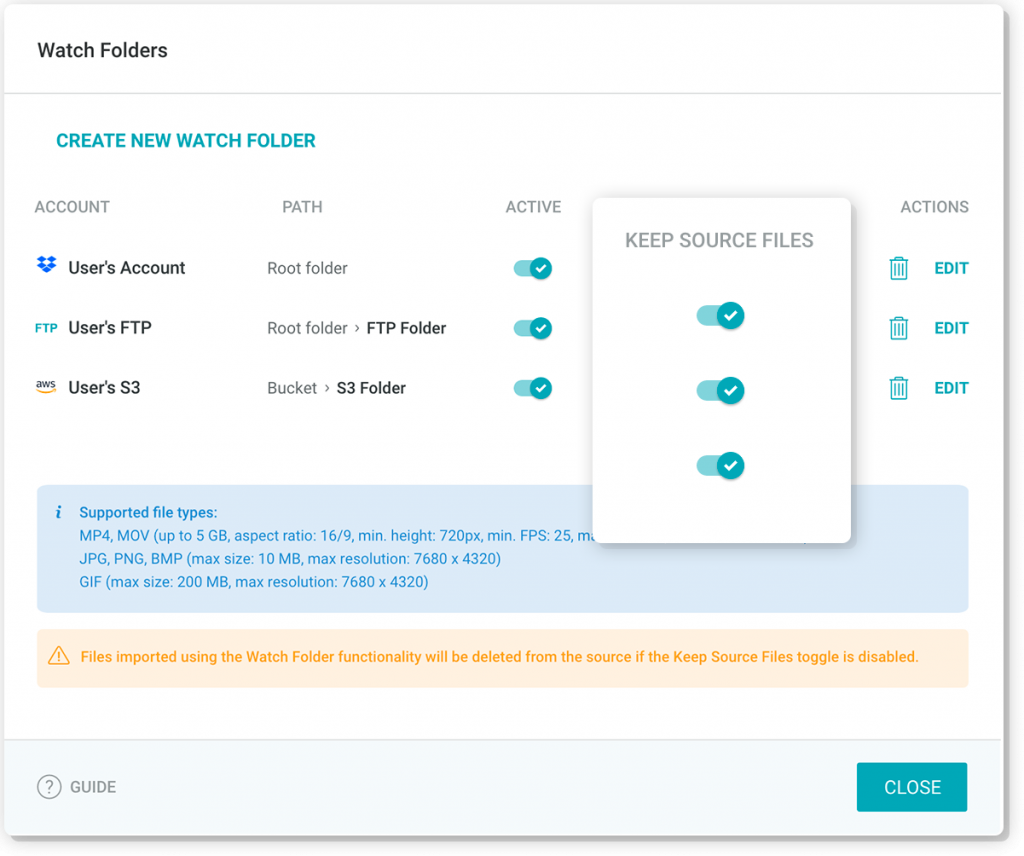 Subtitle Preview
Another new feature is the addition of subtitles (where available) to the video in preview in folders, giving users a more accurate and comprehensive preview of their content before publication.

Hover to Preview
In common with many other video platforms, we're also introducing a 'hover to preview' feature, so that users can see a short preview of their content when they hover their mouse over a video thumbnail. Again, this helps to remove any uncertainty over the nature of the content in question and acts as a quick 'sanity check' for users before publishing or distributing content.
More info: https://app.tellyo.com/guide/first-time-in-folders/

For any more information, please don't hesitate to contact us at feedback@tellyo.com, and we look forward to hearing your thoughts on this new release. We always value and appreciate your feedback!