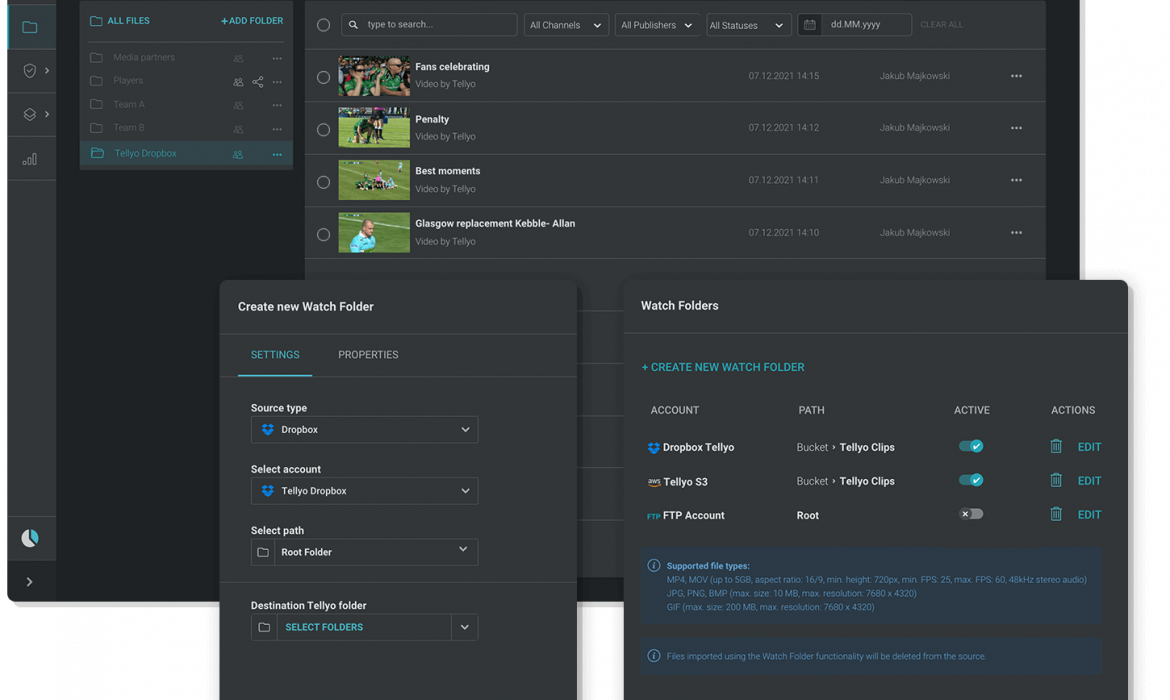 London, UK, 23rd March 2022 – Tellyo Pro is the media production industry's fastest growing cloud solution for video editing, clipping and streaming, and Tellyo is now very pleased to announce the release of the latest version V2.30.0 – codename 'Jessie Rasberry'.
This latest release sees the introduction of Watch Folders that help users monitor and import video content from a variety of different sources. Twitch integration will help make life a little easier for our customers working in the esports industry, and we're pleased to introduce several new housekeeping features that improve ease of use and organise content more efficiently. This update also optimises system performance when customers are previewing/rendering compilation clips, as well as offering greater customisation and personalisation of system notifications.
Watch me!
V2.30.0 sees the introduction of Watch Folders. Using these, customers can store content in S3, Dropbox or FTP sources and Tellyo Pro will automatically import these assets directly into folders, saving time and simplifying workflows.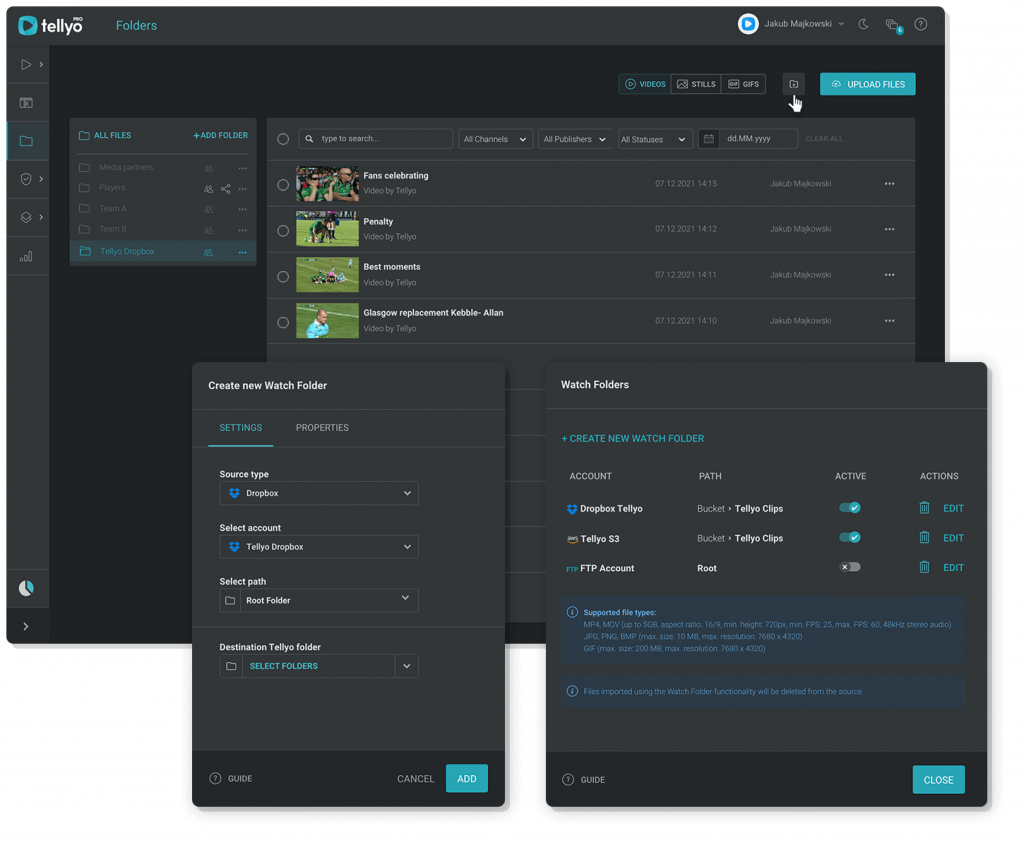 Feeling Twitchy?
Twitch is often the esports industry's streaming platform of choice, and Tellyo Pro has now adopted the Twitch API and therefore integrates seamlessly with Twitch, making it easier for esports customers to live stream esports content.
Peak performance
Tellyo is pleased to introduce a number of small housekeeping improvements that will help customers working with large numbers of clips or creating sizeable compilations. These changes primarily help speed up the preview and rendering of larger clips and compilations. We've also switched to an alternative email service to overcomelimits imposed by the previous provider on the number of recipients of email notifications. Finally, we've enabled users to change and optimise the email notifications they receive, for greater personalisation of their Tellyo Pro experience.

"We're pushing ahead with our ambitious roadmap for Tellyo Pro and we're also expecting to announce a couple of significant updates for NAB Show next month", comments CEO Richard Collins. "Tellyo will be exhibiting on booth N1932 and we'll have our full suite of solutions available for demonstration throughout. With our attendance at several other key industry events now confirmed, the remainder of 2022 looks very dynamic and we can't wait to reconnect with our customers and partners in person".
About Tellyo
Tellyo is your complete cloud production platform.
Tellyo empowers media teams to produce engaging and compelling live content that can be easily streamed to multiple digital and social media destinations using Stream Studio, Tellyo's cloud-based vision mixer/production switcher. With Tellyo Pro, branded video clips, highlights and compilations can be created and published to channels simultaneously and instantly, from anywhere, all with one click. Tellyo Guest helps you deliver high-quality web conferences, events and presentations in real-time that invite external contributors and commentators into productions from multiple devices. Tellyo Talent lets athletes, actors, sponsors, ambassadors and influencers amplify your reach and engagement across social media.
For more information, visit www.tellyo.com
Media contact:
Stuart G. Russell
Head of Marketing and Communications
E: stuart.russell@tellyo.com
T: +44 (0)7827 019494
Follow us on LinkedIn and Facebook
If you are just about to start your adventure with professional live video streaming, you may well be a little bit confused. Whether you're a social media specialist or digital marketer or you're working in sport, fashion or the music business, streaming will undoubtedly improve your content, brand visibility and boost sales. But there's a plethora of things you need to remember, learn and tons of options to choose from. Let's start with the basics and answer some of the most commonly asked questions regarding live video streaming.
What are the best ways to livestream an event and why?
There are many free solutions if you want to stream an event, which you can easily check out for yourself. For personal use, the free solutions can be great. But if you aspire to professional streaming of any kind, the free options aren't going to offer you enough.
Free software solutions for live video streaming (whether an online or desktop solution) are either not advanced enough or simply not good enough. When using a free solution it is quite common to encounter problems during a livestream and highly likely you will not be able to get support when it comes to technical issues.
If you aim to create great live streamed content and promote your event effectively, you should put in place specialist software that will enable you to better configure and manage your stream.
Professional quality never comes for free!
In answering the question, to stream your event in the best possible way, use professional tools to guarantee great results.
What is the best software for live video streaming?
Here at Tellyo, we've put a lot of expertise into creating our streaming software. We're confident it is one of the best professional solutions for streaming regardless of the event type – be it a sports match, fashion show or music gig. Why?
Specifically designed for streaming and clipping videos, our software platform enables you to edit your content and its audio, and adjust videos to fit different formats and streaming destinations (such as Facebook and YouTube).
Tellyo is cloud-based software built on a core platform that delivers two separate solutions to choose from: Tellyo Pro for extensive usage when you have lots to live stream; plus Tellyo On Demand for occasional streams and when you want no strings and simple payments. Both are fully professional solutions and support the most popular social media channels like Facebook, YouTube, Twitter, and Periscope.
You can request Tellyo Pro demo here (we will require some technical details from you) or simply create your account in Tellyo On Demand and start streaming.
What are some of the best live video broadcasting sites to stream live events?
If you want to stream to social media using a channel that's already popular in the market, there are quite a few streaming-friendly sites we can highlight:
Facebook
YouTube
Twitter
Periscope
What's great about the above platforms is that they not only offer streaming features, but also include other cool features too, like chat (YouTube) or announcements and sponsored posts (Facebook). However, the most important part of the deal is that popular social media channels offer direct contact with audiences on pre-established platforms.
Is it possible to live stream to Facebook, YouTube and Twitter simultaneously?
Yes. You can stream to all of the above mentioned platforms simultaneously using Tellyo. Additionally, you can broadcast to other, custom RTMP destinations.
What are some KPIs for live streaming?
This will very much depend on your strategic objectives. If you wish to gain audience and brand visibility, you should aim to get as many viewers and views as possible. Total reach is also a valuable indicator because it shows how many people could have potentially viewed your content.
Depending on your needs, other indicators might include engagement signals (likes, comments and shares), leads and sales, or new signups to on-demand platforms.
It is crucial to set some goals before you start a stream, as these will give you something to measure against.
What are the best practices for live streaming events?
We've prepared a number of articles that you might find useful, regardless of your streaming experience or industry knowledge:
Explore our blog for other interesting insights and ideas.
Is it possible to clip videos out of a live stream?
Using Tellyo – yes. Our platform allows you to cut clips out of live streams and simultaneously share them on social media in a matter of seconds. You can enhance your clips using our feature-packed Editor or simply clip-and-publish. Videos can be distributed straight from the Editor to the most popular social platforms of your choice. If video editing and live streaming is your main concern – consider using Tellyo.
What kind of events can be turned into live video streams?
There's really no correct answer to this. However, if you're responsible for an event and it would benefit from having a larger audience, or you want to reach people who are unable to attend in person, then it would be a good option to stream.
To understand what kind of events others are streaming, let's take a look at some of our clients:
Our Tellyo Pro is used mainly by sports leagues and federations, and TV and digital broadcasters. They will own content or have the rights to stream it, so they require a trusted service that will enable them to broadcast their content directly to social media. They stream big amounts of content regularly, such as entire matches and complete shows.
Tellyo On Demand is used across sport, fashion, music and event organising. It offers a more flexible option and is suitable for organisations who only need to stream from time to time, but still want to rely on an excellent service. They stream small amounts of content, such as occasional behind-the-scenes footage, gigs, press conferences, and fashion shows.
Still not convinced?
If you still have some doubts regarding live video streaming, live production, real time video sharing or anything in between – let us know. Send in your question(s) using our form, message us at contact@tellyo.com, or make contact via social media.