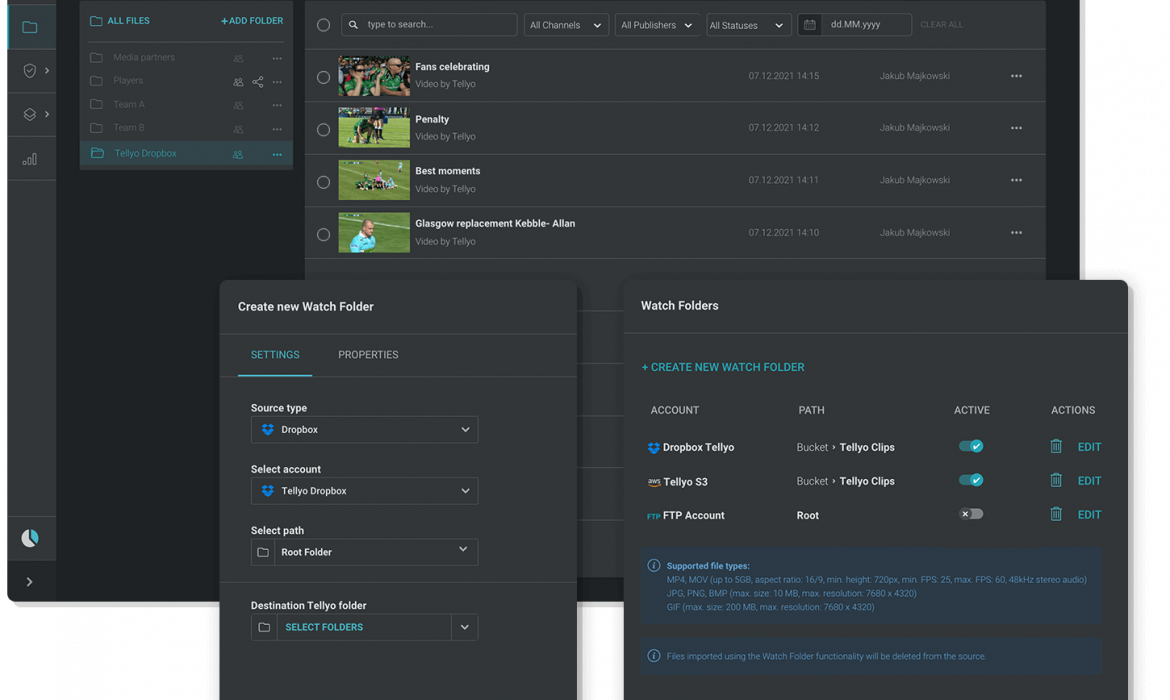 London, UK, 23rd March 2022 – Tellyo Pro is the media production industry's fastest growing cloud solution for video editing, clipping and streaming, and Tellyo is now very pleased to announce the release of the latest version V2.30.0 – codename 'Jessie Rasberry'.
This latest release sees the introduction of Watch Folders that help users monitor and import video content from a variety of different sources. Twitch integration will help make life a little easier for our customers working in the esports industry, and we're pleased to introduce several new housekeeping features that improve ease of use and organise content more efficiently. This update also optimises system performance when customers are previewing/rendering compilation clips, as well as offering greater customisation and personalisation of system notifications.
Watch me!
V2.30.0 sees the introduction of Watch Folders. Using these, customers can store content in S3, Dropbox or FTP sources and Tellyo Pro will automatically import these assets directly into folders, saving time and simplifying workflows.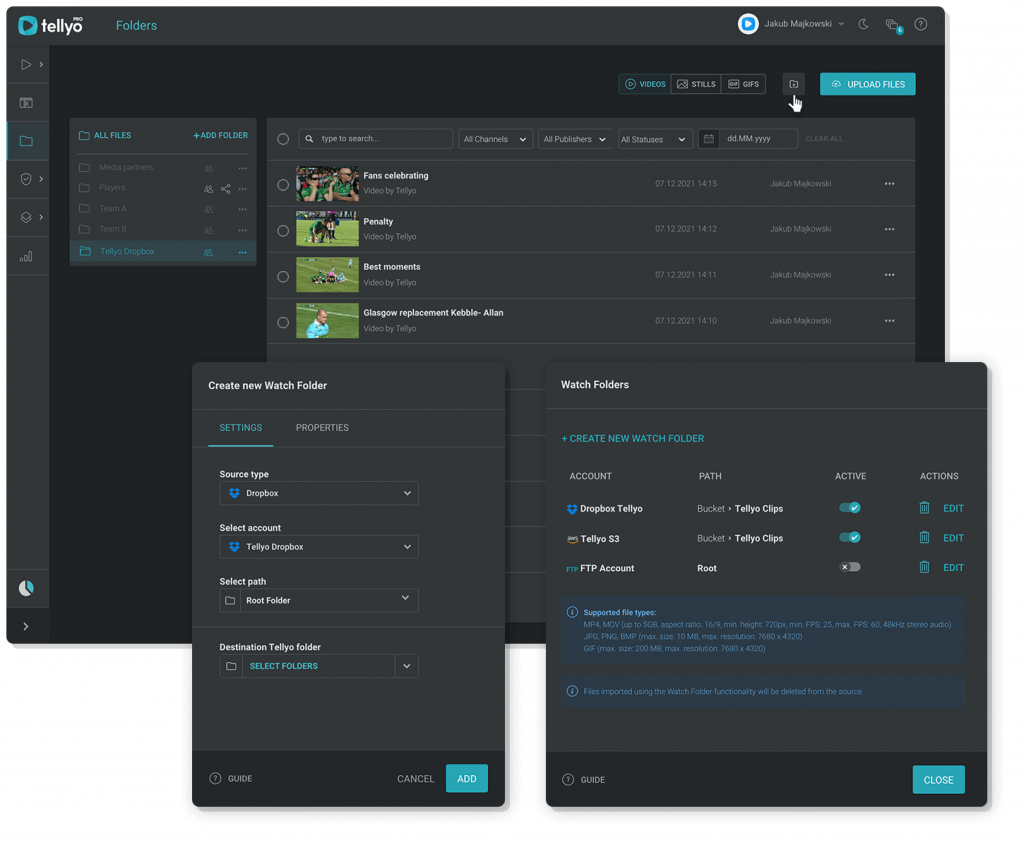 Feeling Twitchy?
Twitch is often the esports industry's streaming platform of choice, and Tellyo Pro has now adopted the Twitch API and therefore integrates seamlessly with Twitch, making it easier for esports customers to live stream esports content.
Peak performance
Tellyo is pleased to introduce a number of small housekeeping improvements that will help customers working with large numbers of clips or creating sizeable compilations. These changes primarily help speed up the preview and rendering of larger clips and compilations. We've also switched to an alternative email service to overcomelimits imposed by the previous provider on the number of recipients of email notifications. Finally, we've enabled users to change and optimise the email notifications they receive, for greater personalisation of their Tellyo Pro experience.

"We're pushing ahead with our ambitious roadmap for Tellyo Pro and we're also expecting to announce a couple of significant updates for NAB Show next month", comments CEO Richard Collins. "Tellyo will be exhibiting on booth N1932 and we'll have our full suite of solutions available for demonstration throughout. With our attendance at several other key industry events now confirmed, the remainder of 2022 looks very dynamic and we can't wait to reconnect with our customers and partners in person".
About Tellyo
Tellyo is your complete cloud production platform.
Tellyo empowers media teams to produce engaging and compelling live content that can be easily streamed to multiple digital and social media destinations using Stream Studio, Tellyo's cloud-based vision mixer/production switcher. With Tellyo Pro, branded video clips, highlights and compilations can be created and published to channels simultaneously and instantly, from anywhere, all with one click. Tellyo Guest helps you deliver high-quality web conferences, events and presentations in real-time that invite external contributors and commentators into productions from multiple devices. Tellyo Talent lets athletes, actors, sponsors, ambassadors and influencers amplify your reach and engagement across social media.
For more information, visit www.tellyo.com
Media contact:
Stuart G. Russell
Head of Marketing and Communications
E: stuart.russell@tellyo.com
T: +44 (0)7827 019494
Follow us on LinkedIn and Facebook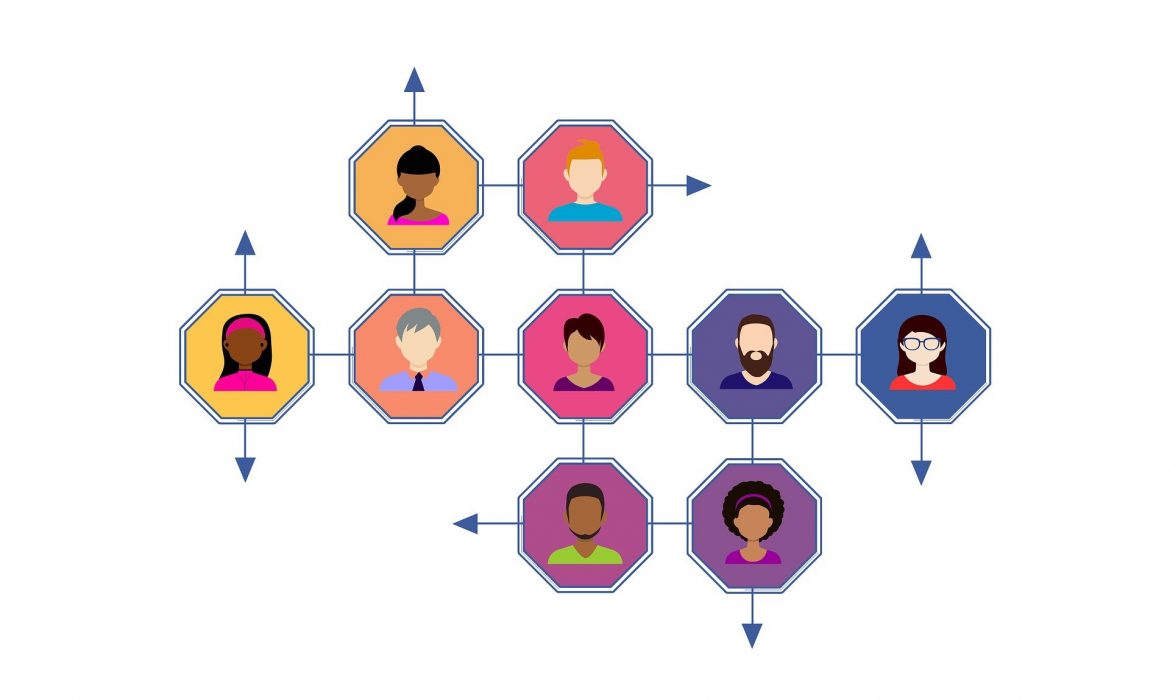 Back in the day, when Facebook was on the rise, every business owner wanted to be there 'because everyone's there'. The social network was soon flooded with aesthetically poor and awkwardly positioned business profiles, most of which were instantly forgotten.
The lesson we can all take from back then, at the beginning of the Facebook hype, is that it's not enough to just be in the right place. In order to gain social media results, you need to remember why it's good to be there and how to do things right.
So, let's start with some basics, so you can ensure your video presence on social media is professional, striking and memorable.
Social media broadcasting is dialogue
Many organisations deciding to make the leap to social media often forget one basic principle: social media is all about dialogue between brands and fans.
So, when you start posting your videos to social media, don't be surprised by the amount of feedback you receive. It's not enough to simply stream great content, you must be prepared to handle the reactions of your community – positive or negative.
Prepare your social media team to expect the unexpected, such as difficult questions, spammy comments and harsh language, much of which you're likely to encounter.
Roll with it… it's not a such a bad thing
A traditional broadcast is controlled by a TV station, while video on social media can develop a life of its own even after being broadcast to a social channel. Once transmitted to the web it could be re-shared thousands of times, rippling out to more and more fans in the process.
What this does raise are questions about how to ensure your branding remains while your content extends its reach. The good news is that there are many useful things you can do to protect and secure branding on your content, such watermarks and bumpers.
Protect your rights by branding your content with watermarks, overlays, wipes and bumpers. Tellyo can help you to do this.
Broadcast is dead, long live the broadcast!
In the world of social media, a broadcast is not a singular event. From broadcasted content, you can create multiple, independent video clips for different social channels, different time zones, and in different languages for different audiences. You can recycle content by creating clips, highlights and compilations.
Thanks to Tellyo, you can even create cool clips during a stream; while also being able to create longer video compilations by joining clips from your live stream with older content created from other sources.
Let your social media folks get creative and play with content. Bring it to life one more time!
Timing is everything (duh!)
In professional broadcasting, especially in sports, timing is crucial. Being able to clip and share a replay to Facebook and YouTube is everything. You can be sure that the first brand to replay a goal or a golden moment will build more reach and grab new viewers within seconds.
If you can automate content production to gain speed, don't hesitate to do it. In Tellyo, for example, you can ensure branded bumpers are immediately added to all content as part of your workflow.
One more thing…
There's no simple or perfect recipe for success. Just be prepared and open minded.
If you're looking for a tool that will help you quickly move beyond the basics and reach new heights with social media, check out Tellyo's features and our case studies.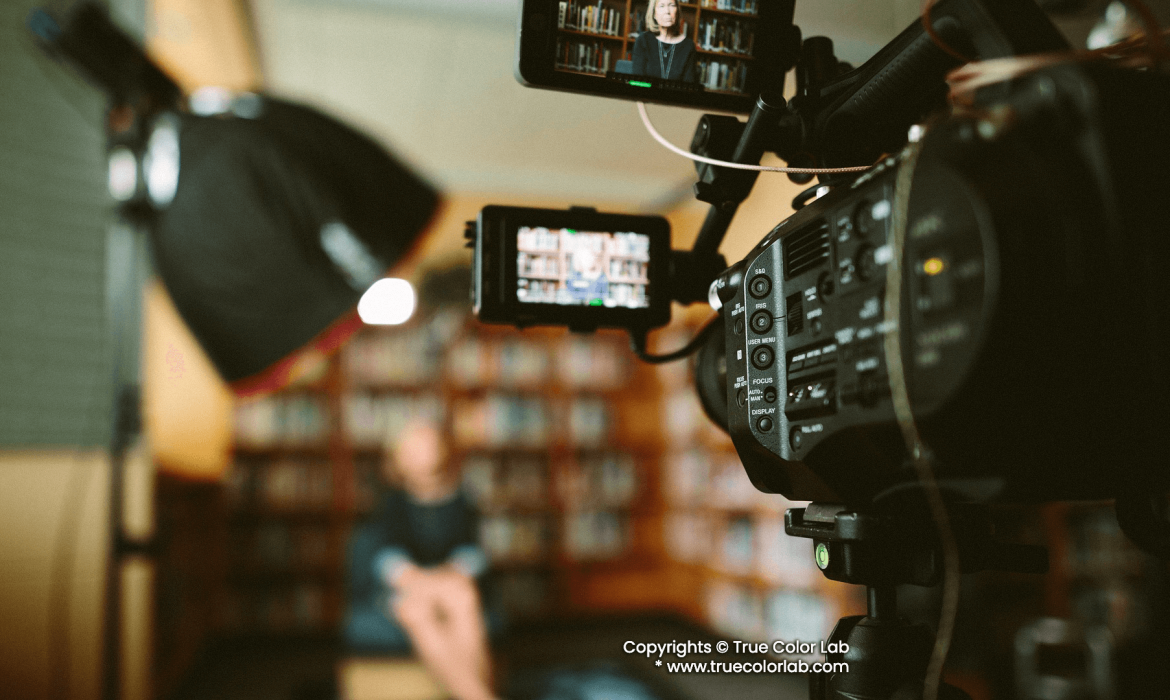 Digital video publishers have spoken about the challenges they face in an insightful report from Wibbitz: Winning strategies for digital video.
Through its findings, having surveyed the company's American and European publishing partners, Wibbitz have been able to identify the challenges proving hardest to overcome.
But for every challenge faced, there's always a solution. And here I want to look at the top four challenges, and how our Tellyo platform can help you overcome your pain by offering some simple fixes.
Human resources
The major challenge for many video publishers is simply having people in place to produce and distribute content. The reality of many people being involved in video production may sound familiar to you? It's something we often hear from businesses here at Tellyo.
Potential customers often tell us how they have separate teams for production and for social media, all trying to manage a technically demanding process. Our response is always the same: it needn't be this way.
Our Tellyo platform democratises video editing, negating the need for tons of specialist and expensive kit, while making the whole process easier and quicker for your people to manage. Tellyo will make video publishing easier and less resource consuming, but not less powerful. Ultimately, you will be able make more brilliant content with the same human resources.
Monetisation
You may be finding that it's pretty easy to reach decent levels of video views, since platforms like Facebook clearly favour video over other content types. But what comes next? What to do with your hundreds, if not thousands, of video views? Well, you're not alone in asking such questions. Monetisation was the second biggest challenge highlighted by Wibbitz survey respondents.
With Tellyo, you can monetise your video content very easily using our platform's features. These include pre- and post-roll advertisements, and branded video players. All of which can be included when you share video content or stream it to different social platforms via Tellyo.
For businesses that are not yet utilising video content – if you move swiftly, you will boost your chances of capturing the attention of new and existing audiences through the video content they desire. This will help you to create monetisation opportunities further down the line. Which leads nicely to my next point…
Quantity and scale
Because there's huge demand for video online, businesses want to be able to deliver the quantity and scale that's required. To cut a long story short, Tellyo helps you to scale production in a very short space of time. For example, our easy to use workflow can be rapidly integrated into and adopted by a business.
Quantity is also extremely important. As an example, let's take a look at an analysis of one of our customers, the International Table Tennis Federation (ITTF).
There's strong correlation between number of videos shared by the ITTF and engagement rates:
Simply put: the more you share, the more likely you are to achieve greater engagement.
Maintaining quality and standards
It can be a challenge to pay attention to quality if there's no time to waste and your main competition never sleeps. Tellyo addresses this by delivering tools that help maintain fast-paced video production, while empowering you to communicate a consistent and coherent brand story through well-packaged videos.
To do so, we make it easy for your team to work together. Using highly-reliable Amazon solutions, Tellyo is cloud-based platform which makes it easy to access for the people involved in a project. What's more, our platform makes it possible to fit video production to the different software and hardware requirements you might be working with. This means you can provide high-quality content fitted to different standards and expectations.
For example, Tellyo can digest various sources, such as HLS, RTMP, satellite streams and TV Exchange Points. It will also work with the most popular social and video networks, like Facebook, YouTube, Twitter, Instagram, but also Brightcove or custom destinations.
When it comes to working with our customers, we're pretty flexible here at Tellyo.
We're always open to new challenges and more than ready to provide solutions fitted to the specific challenges you face. Our platform is also geared towards empowering you as a digital video publisher, so you can focus on the quality of your content, rather than on technical or organisational obstacles.
Please get in contact to discuss your challenges and how we can help.