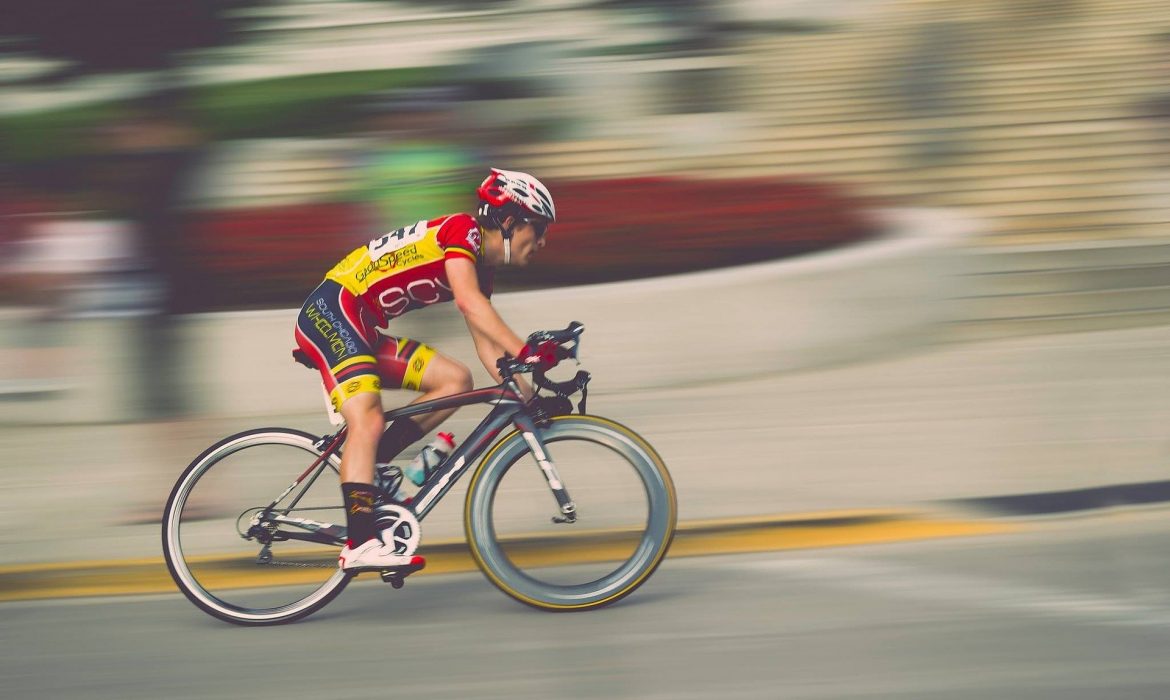 The best sports are full of drama, thrills and emotion that connect us with events when watched live or through the lens of social media. In fact, social media often gets us closer to the moments that really matter, helping us to see and feel the drama as it unfolds.
Check out the following thrilling and emotive videos from these socially-innovative sports organizations.
Guinness PRO14 Rugby
The Guinness PRO14 rugby tournament is a global brand with a TV rights deal and an innovative digital team making the most of social videos, too. Our Tellyo Pro platform is being utilised to create compelling highlights from live games and clip moments to provide videos of crucial events for social audiences, all in a matter of seconds.
Union Cycliste Internationale (UCI)
The UCI is responsible for numerous cycling events around the world, with one of the most prestigious being the UCI World Road Championships.
2018's UCI World Road Championship was held in Innsbruck, Austria. The event, involved the best riders in the world, while some routes had approximately 5,000 metres of altitude, making it truly challenging. The Championships were broadcasted to 150 countries, with short video clips also shared to social media.
Just look at this incredible finish:
It's @alejanvalverde ??!
Alejandro is our 2018 UCI Road World Champion ?
WHAT A FINISH!#InnsbruckTirol2018 pic.twitter.com/35RgxBH5tI

— UCI (@UCI_cycling) 30 września 2018
Or this heart-warming example of fair play:
Padun ?? "Got something to eat mate?"
Muller ?? "Sure, here you go"
LOVING THIS ❤#InnsbruckTirol2018 pic.twitter.com/fPLmx0ZueK

— UCI (@UCI_cycling) 28 września 2018
International Table Tennis Federation (ITTF)
Each month the ITTF produce hours of stunning video content, taken during competitions around the world. From the Republic of Fiji to Germany, during duel after duel, hours of content is recorded and shared via streams and social videos. Fortunately, it's easy to produce and manage this amount of content with Tellyo.
Table tennis is such an amazing sport for video. It's extremely dynamic and spectacular – every single millimetre counts here! When the best players in the world are playing, you can be sure that you'll witness all kinds of emotion.
Fise
Every year Fise organise multiple events across different extreme sports – from parkour to BMX and skateboarding, with the FISE World Series at its pinnacle. The event is one of the most prestigious extreme sports events, hosting the best athletes and gathering thousands of spectators at venues, but also digitally and on social media.
The FISE production crew utilize Tellyo Pro Editor to produce short clips out of live streams ingested onto the platform.
England & Wales Cricket Board (ECB)
Global sports production company, Sunset+Vine, provide engaging video clips directly from live streamed ECB cricket games. The goal being to promote cricket more widely across social media, and to let fans around the world see the ECB's best moments.
Is your sports organisation ready for video?
Every single sport is suited to being promoted through video content. Sport fans simply want to watch sports, wherever they are!
If you want to learn more about video's impact on sports bodies and federations, explore our blog and case studies section, or simply contact us to discuss how you could benefit from utilizing our Tellyo platform.
Most of the videos mentioned in this article have been made using Tellyo Pro – our cloud-based platform for frequent and regular live content production. It enables you to ingest video streams and broadcast these to social channels and RTMP destinations, while also clipping live content into videos to post on social media.
If you're looking to clip videos for social media, there are some new Tellyo automation features to consider, especially if you're using Opta event metadata:
Smart Clips, which automates video clip creation from live sports content.
Auto Clip-to-Post that lets you fully-automate clip creation through to social messaging and social posting, all in one go.
Both are giving more power to editors in their mission to deliver quality sports content to audiences quickly and efficiently.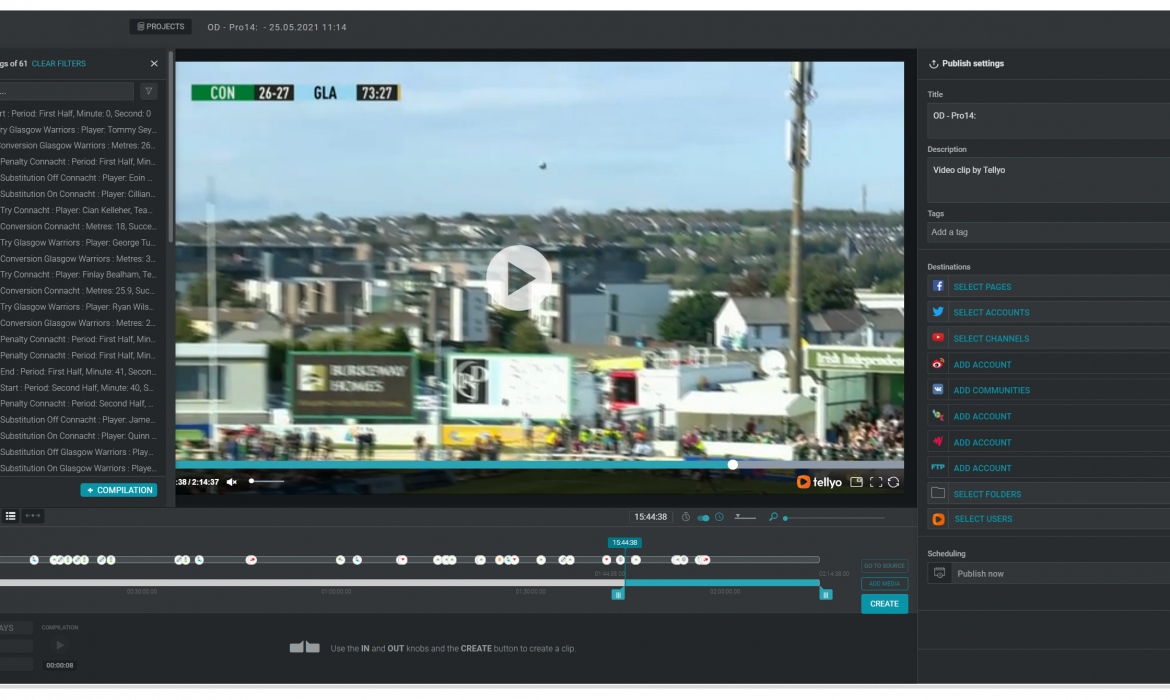 The Guinness PRO14 Championship is a global rugby tournament that pits 14 teams from Europe and South Africa against each other in an exciting league format that culminates in knockout stages and a showcase final. Our Tellyo platform has enabled PRO14 to deliver a robust video content strategy that is driven by the creation and distribution of video clips to drive fans to its live streams.
Data coming from clips created and distributed via Tellyo Pro.
What's the secret behind PRO14's video content growth?
Maximizing new channels
With the media landscape fast-evolving, PRO14 has been quick to create video content for new social channels. As a content rights holder, its strategy is about getting videos out to PRO14 rugby fans so they're part of action, as it happens. As one of our beta partners, the organisation is also helping us to develop and test new products and features, such as our recently launched Stream Studio, Smart Clips and Auto Clip-to-Post.
Progressively larger deployment of Tellyo
Initially used as a test during the early league stages of the 2017/2018 season, PRO14 now use Tellyo to live stream games and to clip videos specifically for social media channels. During the coming 2018/2019 season, PRO14 will also push video content from Tellyo to its new OTT subscription platform.
Sharing video content with PRO14 teams
With relevant permissions and access rights in place, PRO14 is able to give its teams access to Tellyo, meaning each team's media unit can use and share PRO14 video content. This has helped to amplify tournament matches further across social media, whilst also strengthening relationships with PRO14 teams by continuously building content resources that deliver value to everyone involved.
"We're seeing major growth in fan viewership and engagement related to the video clips we're now able to create and share in real time. This is all down to the video strategy we have been able to enact thanks to Tellyo. It plays a significant role in our direct to consumer strategy by giving us the means to elevate the online experience to new levels through engaging and timely content."

Peter Connolly, Digital Manager at PRO14 Rugby