Tellyo Pro – Your Best Alternative to Twitter LiveCut
Are you looking for an alternative to Twitter LiveCut now that the platform has been placed behind a paywall? Tellyo has you covered!
Tellyo Pro is our
live video clipping, editing and publishing
solution that does everything you expect from Twitter LiveCut and a whole lot more. Produce clips, montages and highlight reels quickly and easily. Add graphics, overlays and transitions then publish to all major social media platforms – not just Twitter – simultaneously.
Tellyo Pro is browser-based and supports multiple concurrent users who can collaborate from anywhere.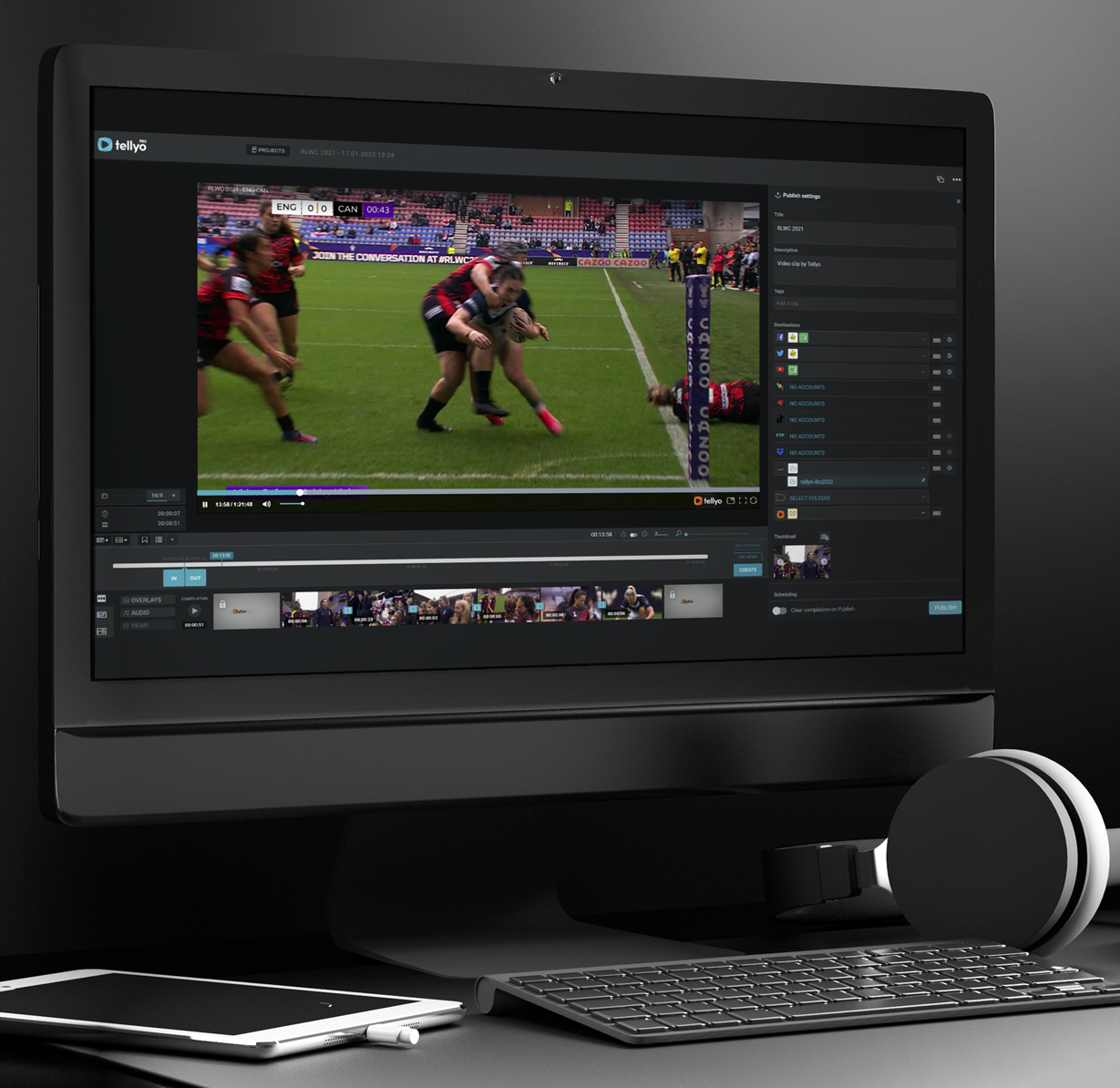 Tellyo Pro supports all major video formats, including RTMP, SRT, HLS, RIST and Zixi, and has full two-way integration with Adobe® Premiere Pro, the world's most popular NLE. We're also part of the Official Twitter Partner Program that recognizes best-in-class technology solutions complementing Twitter.
With a powerful tool-set and flexible pricing options, Tellyo Pro is the ideal replacement for Twitter LiveCut, helping you to produce broadcast-quality content quickly, easily and cost-effectively. We offer full product training and 24/7 support, and do not charge for familiarization or setup time – you only pay when you start ingesting your content in Tellyo Pro.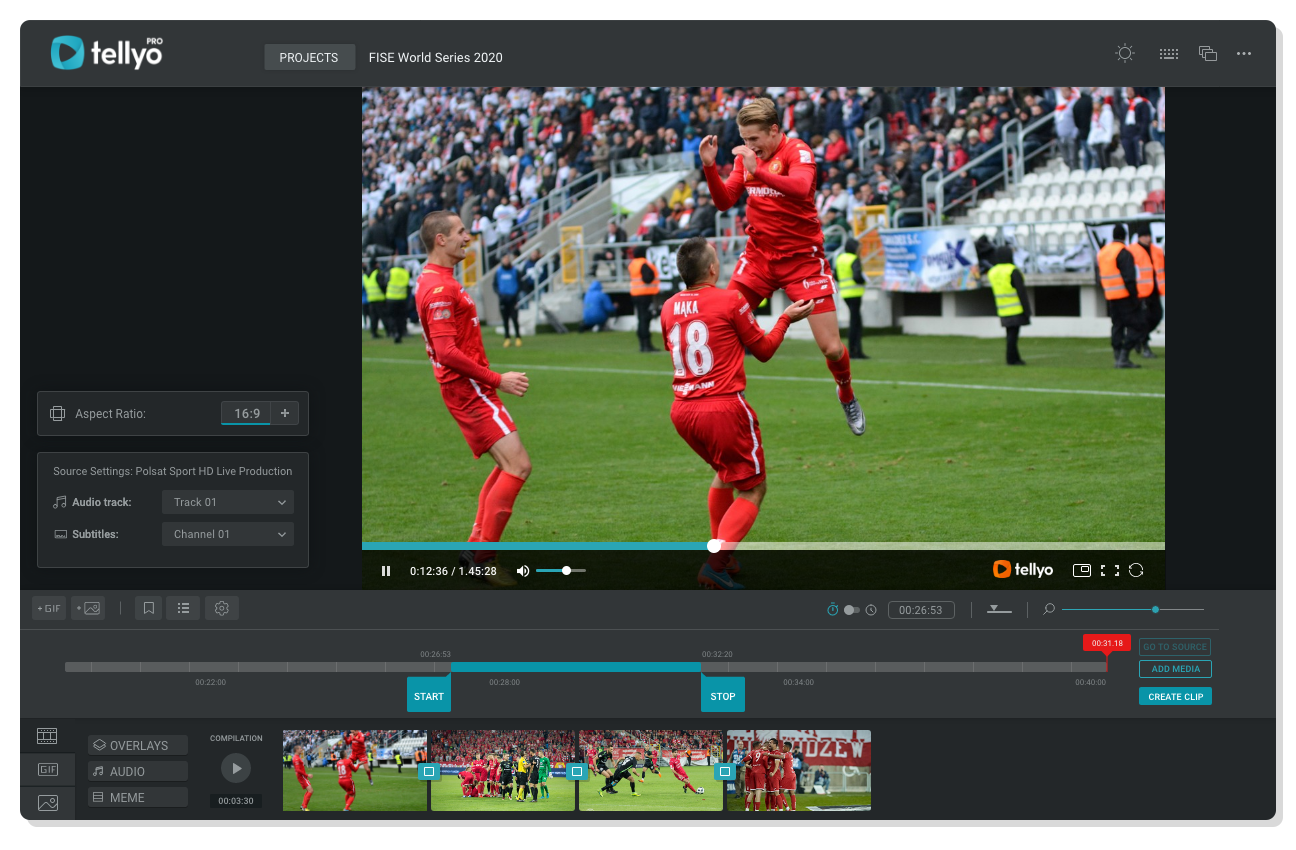 Here's how Tellyo Pro compares with Twitter LiveCut:
Tellyo Pro
Twitter LiveCut
Supports multiple concurrent users
Supports RTMP and HLS ingests
Supports SRT, RIST and Zixi ingests
Supports 720p
Supports 1080p
Supports bitrates up to 20Mbps
Ingest live metadata
Supports multiple aspect ratios for different social media platforms
Create single clips for posting on Twitter
Create montages, highlight packages, and reels using a combination of live, previously recorded, and VOD content
Enables branding / graphical overlays / transitions / bumpers to be added to clips
Supports multi-channel audio (up to eight tracks)
Create gifs and still images from streams
Full two-way integration with Premiere-Pro
Integration with Dropbox and S3
Supports saving and downloading of past broadcasts
API integration with social platforms activates platform-specific features
(e.g. Twitter call to action, content restrictions, mentions, and monetization)
Includes Tellyo Talent application – create approved content that can be sent to actors/athletes/influencers/brand spokespeople/sponsors, and then shared via their own social channels
Live 24/7 support available
To arrange a free trial of Tellyo Pro, please get in touch with us below.
Learn how we have helped our clients and partners simplify the production, streaming and distribution of high-quality video content. "I cannot imagine life without Tellyo. The platform is at the core of our social video strategy, helping us to showcase dynamic sports content from multiple ITTF tournaments online. All-in-all, thanks to Tellyo, we're better able to entertain and excite our fans, dramatically improving our digital reach, video views and fan engagement levels across social media."

Matthew Pound
ITTF Marketing Director